FSL Coordinator – Islamic Relief Worldwide
Job Description
| | |
| --- | --- |
| Job Title : | FSL Coordinator |
| Department/unit | programme |
| Salary and grade | 796.08 USD 7 B step 6 |
| Location: | West Kordofan |
| Line manager: | programme manager – WK |
| Deadline: | 17/07/2021 |
Job purpose:
The post holder is responsible for coordinating with CO and FSL sector and provide support to / RW west the Kordofan for implementing food security and livelihood (FSL) PROJECTS in WK, by ensuring good implementation, monitoring, and reporting of all FSL related FSL activities and share with the donor, co and sector, in addition to holding responsible for facilitating good practice & legal compliance with IRW implementation strategy &mandate and the donors the requirements and interest. he/she also hold accountable for a good representation of IRW at the locality level and holds the responsibility for liaising With the FSL sector and ministry of production, HAC locality, partners NGOs, and government bodies in WK.
FUNCTIONAL RESPONSIBLITIES & TASKS:
hold responsibilities for coordinating and implementation of FSL activities in WK as per approved projects
coordinate with FSL officers in developing detailed implementation plans for all projects in WK, in close consultation and coordination with programmer manager.
contribute to developing FSL proposal and other programming reports and share with programme coordinator – WK
provide support to FSL officers in WK to develop and conduct training workshops related to FSL component for beneficiaries, events, and other programmatic festivals and as well coordinate with relevant government authorities and stakeholders
hold the responsibility of identifying the most needy communities and target groups per the priorities and IR guidance criteria for selecting beneficiaries in line with sector priorities.
hold the responsible for collecting / aviling data related to FSL extracted from the sector and relevant government guidelines and his own expertise that well help in identifying the target communities.
hold the responsibility for coordination, follow up and monitoring of FSL project/activities in WK.
the FSL coordination, will be reporting in WK and will be responsible to submit a regular reports to his line manager appropriately.
the FSL coordinator will be responsible for initiating and writing final completion report for the FSL component in WK and share it with PM, donor, and CO
Follow the M&E formats for reporting as guided by the M&E coordinator
The FSL coordinator will be responsible for initiating and writing final completion report for the FSL project and share with PM as well, will respond to participation in developing monthly reports and annual reports.
participate, develop snd share with PM, the processes are taken for the handover of project outputs to the communities/ stakeholders, and ensure receive hand over certificates.
The FSL will ensure maintaining good records of all FSL project documents.
The FSL will participate with FSL officers to develop and document lessons learned, case studies, and good stories for FSL projects in WK and share success stories gathered from project sites.
Assist in any other tasks related to WK proramme.
performs other duties as directed by his supervisor.
Special Note
The employee holding this job must expect that /her performance will be measured in part against the standards set forth in his /her JD. However, the subject to revision further the consistent with positions level of responsibilities may be necessary to fulfill IRS objectives in the country.
Working Condtiions:
West Kordofan is the employee duty station. The employee may be required to perform assignments after his/her working hours and on holidays besides trips to other areas where IRW operates or to other offices.
AUTHORITY:
General: N/A
Financial: N/A
Qualification/skills
Education: University Degree in Agriculture or Natural Resources or related field.
Experience: Minimum 5 years experience in relevant field preferably with INGOs. Ability to work under pressure and in remote field conditions.
Knowledge and skills: good computer skills, especially in Excel, office, and Email. Strong team spirit, good people management skills, proven report writing.
Language: Good English and Arabic language both written and spoken.
---
Interested candidates shall submit their CV (including current address and contact numbers), copies (only) of relevant certificates, and a covering letter to the Humanitarian Aid Commission (HAC's Labour Officer), Jamhoria street, Khartoum. Applications should be submitted by 17 July 2021. only short-listed candidates will be contacted.
For jobs from Islamic Relief Worldwide visit: Islamic Relief Worldwide Jobs Page
For more Jobs from HAC visit: HAC Jobs Page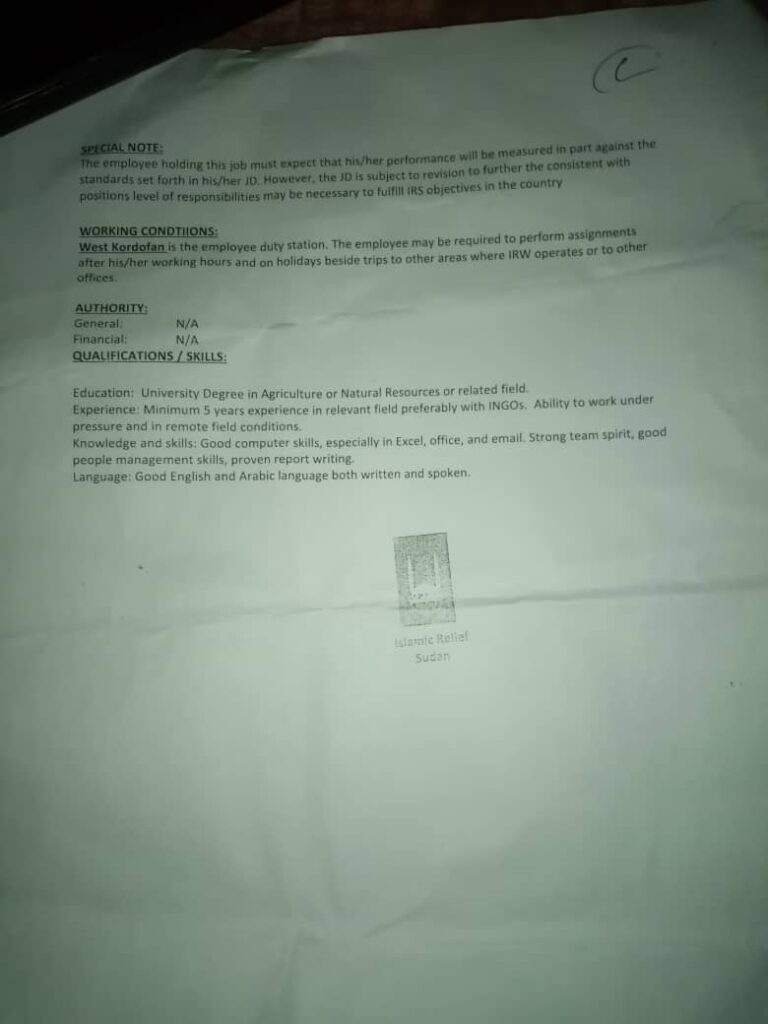 Related posts