Finance and Admin Coordinator – World Vision
Overview
Section/Unit: Finance &Support Services
Duty Station: South Kordofan
World Vision is an international Christian humanitarian organization founded in 1950 with operations in nearly 100 countries worldwide. In Sudan, World Vision has programs in Darfur, Blue Nile, East Darfur, South Kordofan & Khartoum states. Our interventions are in early childhood education, health and nutrition, income generation and sustainable livelihoods. We serve all people regardless of religion, race, ethnicity, or gender.
World Vision South Kordoffan seeking to recruit qualified Finance and Admin Coordinator based in South Kordoffan.
PURPOSE OF POSITION
To provide effective and efficient leadership to the South Kordoffan finance and admin operation, managing, directing finance and support services operations (ICT and Administration unit). The position will focus on implementing financial strategies that best serve program objectives in consistent with World Vision National strategy, Partnership Policies and donor requirements. This role will also have a technical reporting relationship to the Grants Finance & Accounts Manager based in Khartoum.
MAJOR RESPONSIBILITIES
% Time
Major Activities
End Results Expected
10%
Financial planning and Budgeting Coordinating and consolidating the planning and budgeting process and provide technical support in line with budgeting guidelines, FFM requirement and donor regulation (including GIK).

Review the alignment of budgets between projects, MyPBAS and support office Prepare budgets for the Zonal cost centre.
Quality budget developed and timely uploaded on horizon All key staff oriented (Project Managers, SFO's, technical coordinators evidenced by a report Zonal participation in budgeting for grants Monthly reconciliation of MyPBAS
10%
Accounting, Monitoring and reporting
Cash flow Management Coordinate the recording and submission of timely and accurate financial information for reporting
Interpret financial analysis and provide recommendations to the Programme Managers. Ensure smooth Start-up and close out of Grants/PNS Reconcile balance sheet accounts monthly
Ensure key initiatives are rolled out (Finance, Administration)
Document and share lessons/promising practices.
Control project spending & ensure zero overspending
Monthly financial management analysis timely provided to the Zonal Manager/Associate Director and Program Managers. Variance explanations provided in the semi-annual reports reviewed. Payments and journal adjustments reviewed. Availability of funds to support the zonal activities at all times. Quarterly cash flow projections shared with NO Accurate and quality reconciliations (bank, myPBAS , Balance sheet, LDR, and Security bills) submitted on a Monthly basis Monthly FFR meetings facilitated with minutes on file. Monthly management report timely submitted. All project reports timely submitted PNS & Grants closed according to guidelines. Key initiatives rolled out within the specified period Lessons and promising practices shared Field visits conducted and reports shared Monitoring and reporting of GIK
20%
Risk Management
Oversee the maintenance and security all documentation according to WVI standards and donor policies.
Manage systems policies and procedures that provide appropriate level of security and control of assets
Implement efficient and effective internal control systems, Coordinate programs audit in the zone
Ensure implementation of prior audit recommendations
Identify, mitigate and report Finance and Administrative risks. Conduct Fraud and anti-corruption awareness.
Participate in pre-award assessments for sub-grantees and Partners
All documents are complete, updated and maintained.
Timely reporting of incidences on IIMS and timely closure of the same.
Audit recommendation implemented within 90 days
Zonal risk register updated quarterly.
Policy and internal controls in place and operational.
Acceptable Financial Audit rating
10%
Performance management Manage staff performance Conduct orientation of staff on internal controls, procedures and processes
Coordinate orientation of partners on internal controls, procedures and processes
Coaching and Mentoring of the finance and support services staff in the Zone.
Performance Agreements with direct reports in place
Mid-Year and Annual Performance Appraisals conducted.
Performance conversations with staff conducted and documented when and where necessary
All staff oriented on internal controls, policies, standards and procedures.
Capacity building plans for finance and support services staff developed and submitted.
Key partners orientated on internal controls, procedures and processes
10%
General
Provide general oversight to the Zone
Office mangement & Security Office Maintenance
Fleet and Fuel management
Asset Management-Inventory & Fixed assets
Updated Fixed asset registers is in place Disposal plan recommended for approval All vehicles fitted with security features (GPS/alarm
Core Security infrastructure in place
Monthly fleet management report submitted timely.
KNOWLEDGE, SKILLS AND ABILITIES
Bachelor's degree in Accounting/Finance
Minimum of 5 Years in Finance and Accounting with at least 3 years of relevant experience providing management advisory services and managing staff and operational systems
Experience managing statutory and donor audits
Substantive experience working in the NGO sector dealing with multiple donor funds and meeting different donor reporting requirements
Proven experience in supervision of staff within different functions
Demonstrated high proficiency levels of computerized accounting systems preferably Sun Systems
Additional
Excellent analytical and problem solving skills
Ability to present information clearly and concisely in writing or verbally, with excellent written and spoken English
Ability to negotiate and influence, able to challenge and question
Ability to create and maintain administrative systems.
Able to prioritize own and others work to tight work deadlines.
Preferred Skills, Knowledge and Experience:
Master's degree in Finance, MBA or related field
Charted Accountant- ACCA, CIMA, CPA, ICAM added advantage
Proactive with a positive outlook and willingness to embrace change
Ability to work using own initiative, but knowing when to consult.
Relevant experience of the operations and processes NGO including financial accounting processes and controls
Work Environment
Complete Travel and/or Work Environment statements if applicable.
The position requires ability and willingness to travel up to 25% of the time.
FREEDOM TO ACT
Financial decisions related to expenditure, cost control, budget management within approved annual budget and in line with FFM
Decisions related to day to day management of staff reporting directly to this position.
Approval limits beyond the zone
Waivers
Staff recruitment and Separation
Procurement of capital items
Disposal of assets
Office relocation
Contracts (including legal processes)
Assignments are given through Performance Agreements (written) and verbally
Applications should be submitted also to Labour Office HAC not later than July 14th, 2021.
---
About World Vision in Sudan
As a child-focused organisation, our goal is to see children reach their full potential. We don't just want children to survive, we want them to thrive! We began working in Sudan in 1983, our programmes were initially operational until 1988. In June 2004, we resumed operations, in response to the Darfur Crisis.
Today, our teams of dedicated development and humanitarian professionals work tirelessly to contribute to the improved well-being of boys and girls through multi-sectoral and community-based programmes across four states: South Darfur, Blue Nile, East Darfur and South Kordofan. Our headquarters are in Khartoum.
We remain committed to our vision of life in all its fullness for all children. By 2020, we hope to have positively affected 2.5 million boys and girls in Sudan.
What is the main purpose of World Vision?
World Vision is an international partnership of Christians whose mission is to follow our Lord and Saviour Jesus Christ in working with the poor and oppressed to promote human transformation, seek justice and bear witness to the good news of the Kingdom of God.
What countries does World Vision work in?
What countries does World Vision work in? World Vision works in some of the poorest countries in the world where the need for help is greatest. The World Vision Partnership works across Asia and the Pacific, Africa, Latin America and the Caribbean, and the Middle East, Eastern Europe and Central Asia.
---
Applications should be submitted also to Labour Office HAC not later than July 14th, 2021.
For jobs from World Vision in Sudan visit : World Vision Jobs Page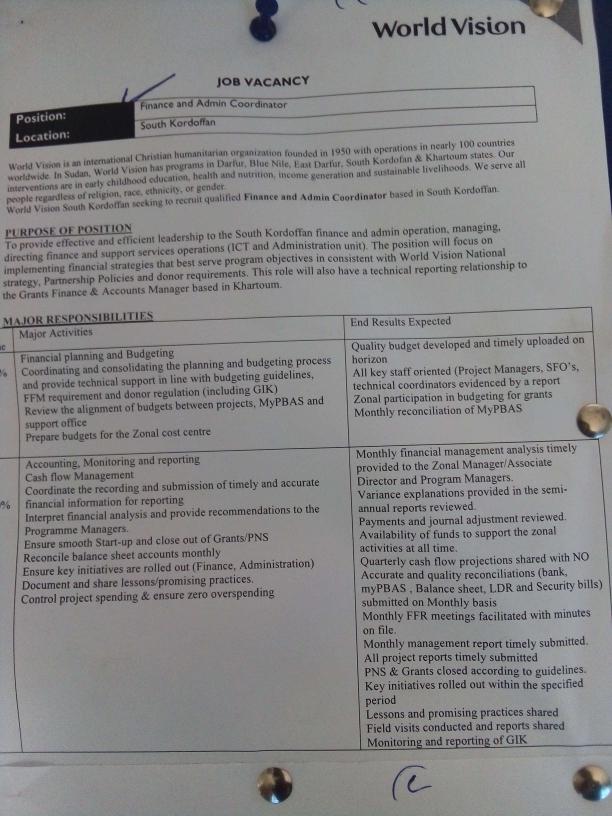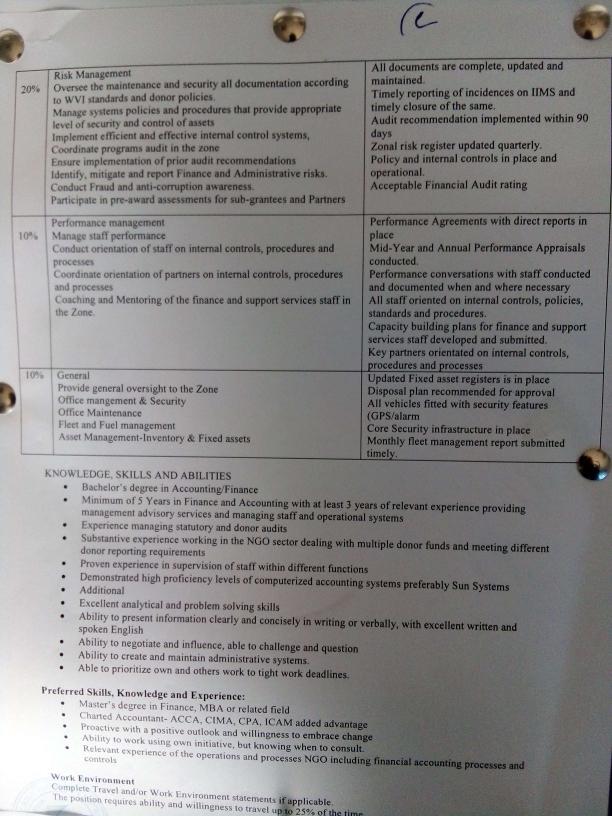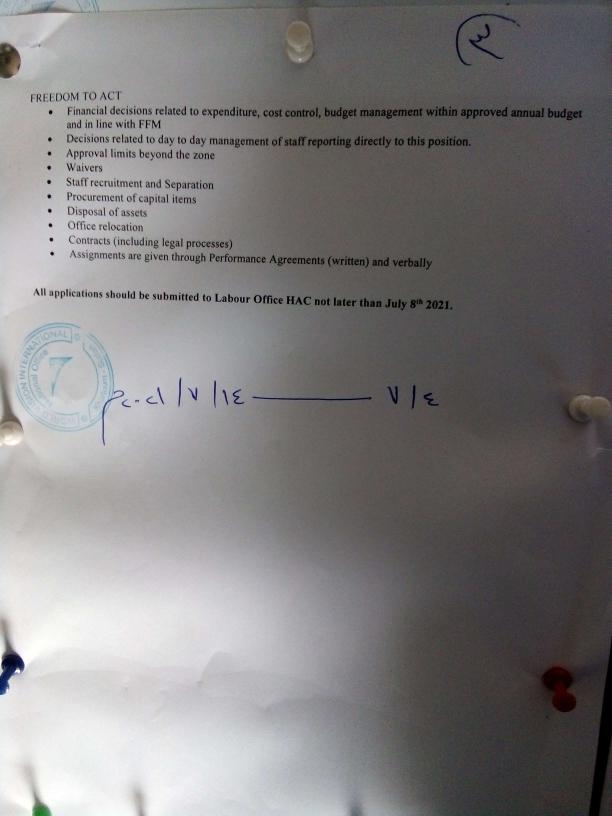 Related posts