Roving Procurement Coordinator (Sourcing) – SAVE THE CHILDREN
Salary: Gross $777 USD
Save the Children is the world's leading independent organisation for children. We work in 120 countries. We save children's lives; we fight for their rights; we help them fulfil their potential. We work together, with our partners, to inspire breakthroughs in the way the world treats children and to achieve immediate and lasting change in their lives. We have over two million supporters worldwide and raised 1.9 billion dollars last year to reach more children than ever before, through programmes in health, nutrition, education, protection and child rights, also in times of humanitarian crises. Following a major transition, our international programmes are now delivered through a merged operation with 15,000 staff, managed through seven regional hubs and reporting to a relatively small, central office.
ROLE PURPOSE:
The Procurement Coordinator (Sourcing) acts as a crucial component in the SCI Sudan CO's Procurement team which aims to deliver quality goods and services across all SCI Sudan CO's Operations. The Procurement Coordinator (Sourcing) is responsible for coordinating sourcing for the CO, including
Develops and maintains a Sourcing Pipeline of anticipated future Procurement demand for both development and humanitarian programmes.
Runs sourcing procedures in line with the Procurement Manual to deliver identified business supply needs.
Ensures best value for money is achieved through competitive and transparent sourcing.
Manages key supplier relationships to develop strong strategic partnerships with critical suppliers.
Ensures that supplier data base is updated with reputable and capable suppliers whom can deliver the services and supplies as per the requirement.
Ensures the continuous support of all field locations as per need and requirement/assignment.
Weekly report to the Head of Procurement on the Procurement Tracker
Revises and consolidates Procurement Trackers from all field offices and submits to Head of procurement on weekly basis.
SCOPE OF ROLE:
Reports to: Head of Procurement
Staff reporting to this post: 2 staff (1Procurement Coordinator & 1Procurement Assistant)
KEY AREAS OF ACCOUNTABILITY:
Strategy and Planning
Contribute to the development of the sourcing elements of the Procurement strategy and implement agreed sourcing approaches within the country
Be the country champion of the Sourcing Best Practice Initiative to ensure effective use of both global and national resources for sourcing.
Sourcing of goods and services
Develop for the Sudan CO a rolling Sourcing Pipeline, alongside Head of Procurement.
Liaise with stakeholders both internal and external to continually review the internal and external environments and identify opportunities to add value to our operations through effective sourcing.
Develop sourcing approaches to meet programme supply needs based on plans, procedures and requests received
Supplier Management
Support supplier selection and contracting activities by undertaking market research and analysis, running tenders and setting up Contracts, Pre-Qualified Suppliers and Framework Agreements where appropriate for selected supplies for Sudan CO and our field offices.
Manage and continuously improve our supply data base by tracking supplier performance and actively liaising with suppliers,
With the Head of Procurement, to undertake supplier's risk management including, vetting, justified Suspension and Discontinuation
Make suppliers aware of Save the Children values, policies and procedures and their need to comply as part of agreements. And monitor their later compliance with.
Ensure we only work with vetted, high quality suppliers that comply with Save the Children, Legislative and donor requirements.
Team Management and Capacity Building
Conduct performance reviews and build capacity of the Procurement Officer, Assistant and Intern, ensuring clear work plans are in place and that personal objectives are established with regular feedback and support provided
Develop strong relationships with field office programmes to support them in improving their Procurement practices and review all Procurement Plans together with the relevant stake holders
Performance Management
Produce management information reports on a monthly and quarterly basis, including data analysis and recommendations on improving the efficiency of sourcing services
Support the relevant stake holders in monitoring the Procurement function performance against KPIs and targets, developing and implementing the necessary corrective actions for sourcing activities to improve performance.
Ensuring all financial benefits from sourcing are documented
Governance
Promote and ensure compliance to our Procurement Policy, Procedures and quality standards
Implement and ensure compliance to our Procurement Policy, Procurement Manual and established Procurement Procedures
Set a strong tone from the top that fraud is unacceptable
ROLE PURPOSE: 12 months
DUTY STATION: Khartoum with Frequent Travel
QUALIFICATIONS:
Minimum Essential qualification acceptable is a Bachelor degree in management; Supply Chain, Logistics, Procurement, Engineering or related fields.
Preferred qualifications are MA/MSc/BA and/ or Chartered Institute of Purchasing & Supply (CIPS), Risk Management Professional or equivalent Experience.
A Minimum of 3 years of relevant experience working in Procurement, preferably in an NGO/and/or development program, with in depth experience in managing complex sourcing processes and supplier relationships
Solid knowledge and experience of planning and implementing sourcing activity and processes
Excellent supplier management skills and a strong ability to hold suppliers accountable to deliver on their responsibilities
Familiarity with the local and regional supplier markets
Experience in some of our key programmatic categories (Supply Chain, Construction, Humanitarian Goods, Education Supplies, Medicines) or indirect categories (External Workers/Consultancy, IT, Property etc.). Knowledge of NGO/ Donor policies and their compliance requirements in respect of Procurement and wider supply chain activity
Competency in reporting, particularly the ability to quickly develop clear and concise delivery tracking, scheduling or pricing, donor, monthly KPI reports.
Excellent interpersonal, communication, presentation and Negotiation skills
Willingness to undertake field travel as required and work in difficult environments according to travel environments
High level of computer literacy. Especially excellent MS Excel/Word skills.
Excellent oral and written communication skills; Fluency in spoken and written English;
Commitment to and understanding of Save the Children's aims, values and principles.
---
Females are strongly encouraged to apply for this post.
Application, full CV, copy of qualifications and experience certificates should be delivered directly to HAC Labour Department, Khartoum – End of Gamojoria Street. Only short-listed candidates will be contacted for written test and interviews. All inquiries should be addressed directly to Labour Office–HAC Khartoum. Closing date will be on day: 30/06/2021. Any application after this date will not be considered. All interviews done in HAC Labour Dep.
Disclaimer: Save the Children International does not charge any kind of fee at whichever stage of the recruitment process and does not act through recruitment agents. SCI will be undertaking child safeguarding checks for all candidates. Selected candidate will asked to provide police checking prior to signing contract.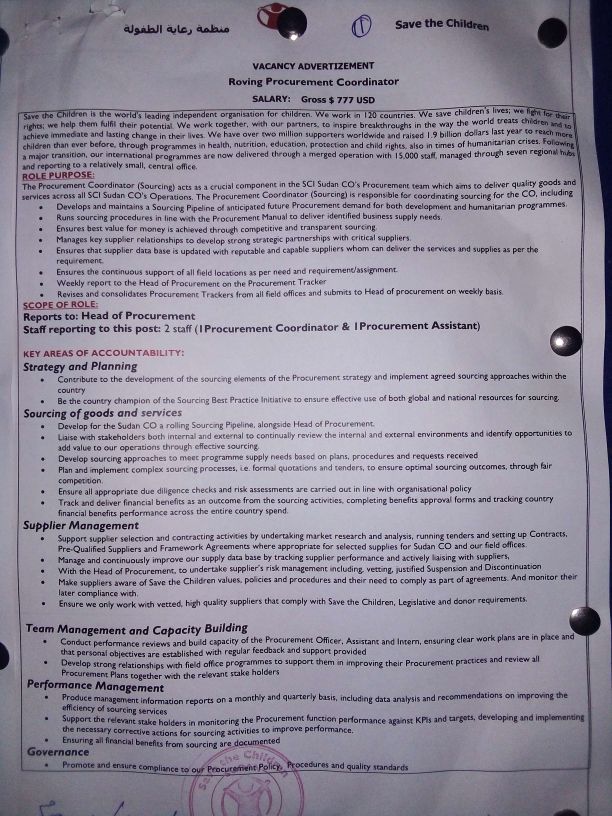 Related posts