Project Manager, BHA Blue Nile Response Program – World Vision
World Vision is an international Christian humanitarian organization founded in 1950 with operations in nearly 100 countries worldwide. In Sudan, World Vision has programs in Darfur, Blue Nile, East Darfur, South Kordofan & Khartoum states. Our interventions are in early childhood education, health and nutrition, income generation and sustainable livelihoods. We serve all people regardless of religion, race, ethnicity, or gender.
World Vision Blue Nile State seeking to recruit qualified Project Manager, BHA Blue Nile Response Program based in Blue Nile State.
PURPOSE OF POSITION
The Project Manager is overall responsible for managing the implementation of the BHA, Blue Nile Flood Response with Multi-Purpose Cash (MPC), Health, and Water, Sanitation and Hygiene (WASH) program activities. The role will the program baseline survey, the engagement with the main stakeholders on the startup, the program implementation, the mid-term review, final evaluation and project closure activities, responding to the needs of the flood affected vulnerable communities.
Coordinating Manager for BHA to ensure the program goals are achieved. The Project Manager will also oversee the recruitment of the project staff and all the financial management related activities ensuring the expenses incurred are according to the BHA, donor agreement.
MAJOR RESPONSIBILITIES
Technical Implementation & Compliance
Supporting the Project team in the implementation of the major activities for the BHA Flood Response Program ensuring the laid output and outcomes are achieved.
Will lead the registration and distribution the Multi-Purpose Cash activities, further supporting the team in setting up the Last Mile Mobile Solution and Cash Assistance Tracking System.
Will lead the negotiation and agreement with the Financial Service institution contracted to carry the cash distribution activities.
The Project Manager will manage the implementation of the WASH activities to ensure the projects provides timely, sustainable, and equitable access to safe WASH services, and through pairing WASH programming with Health and Nutrition interventions, WASH sector activities aims to end the cycle of diarrheal diseases and control health outbreaks.
The Project Manager will also lead the Health systems strengthening to promote community-based prevention and control of infectious diseases, especially for flood-related childhood illnesses, will work to improve community health outcomes.
Donor/WV Program Reporting
The Project Manager will develop the monthly and quarterly donor reports reports, further ensuring the reports are shared by Grants Acquisition Management team and WVUS as per the indicated dates for submission
On a monthly basis the Project Manager will work closely with the Cash Assistance Technical Team Lead to ensure the Cash Transfers Report are uploaded on the Disaster Grants Database and all the corresponding cash reports including successes stories are uploaded according to the standards
On a weekly basis, the Project Manager will work with the State Program Manager to contribute to the weekly internal reporting required
In collaboration with GAM maintain a calendar checklist of the required quarterly, semi-annual, annual, project closure reports, ensuring the reviews are conducted on time, the quality of reporting is enhanced and the reports are shared as per the donor/WV agreements
Monitoring, Evaluation, Accountability and Learning
Working closely with the Program Quality Unit, the MEAL Manager and Technical Leads, the Project Manager will ensure that a Baseline Survey is conducted for the Program as per the agreed terms of the project.
The Project Managers will also ensure that Onsite Distribution Monitoring, Post Distribution Monitoring, Market Assessment systems are conducted as per the agreement and input from the Technical Leads.
For Multi-Purpose Cash during the registration, verification and cash distribution, a Complaints Help Desk will be set to record and response to Complaints. The Project Manager will also ensure the Field team have drafted information about the project (Information provision) to be shared with the beneficiaries
Financial Management
In close collaboration with Finance, lead the review on the financial report on a monthly basis.
Lead and approve the project expenses and any Purchase Requisition according to the Donor signed agreements. Where the Project Manager is not sure consult the Finance and GAM before any expenses are incurred.
Support the Finance Team in the production of the financial reports are per the donor/WV standards
Cluster Engagement and WV engagement
Participate in the State Level Cash Working Group, Health, WASH Cluster Meeting
Joining hands with GAM/Operations participate in donor meeting at National Level and also participation in donor visits ate field level
Participate in Regional assignments for the Sector, monthly Food Assistance Meetings, Quarterly Food Assistance Community of Practice and other Global Cash/Food Assistance
People Management
Participate in recruitment and selection for the project
Work on staff development plans, provide timely feedback, support and motivate staff to improve performance.
Conduct performance appraisals, maintain employee files, create job descriptions, and maintain performance standards for all employees in the commodities department.
KNOWLEDGE, Skills AND ABILITIES
First Degree/Higher Diploma in Developmental Studies, Disaster Management, Health, Nutrition, Business Administration, or any relevant Social Sciences is required.
Formal training in Cash and Food, WASH, Health Nutrition related systems strongly preferred, knowledge of cash, food assistance donors and regulations ( WFP, BHA, UNICEF)
More than 5 years of experience in emergency response, development programming, and/or fragile contexts and preferably, work within World Vision. Experience in setting up and operationalizing cash/health or WASH programs
Requires ability to write, well analyze, and express ideas in a sensitive manner within the context of a humanitarian approach.
Knowledge of the sphere standards, Code of Conduct for Red cross/Red Crescent, Humanitarian Accountability Partnerships (HAPI) and other international humanitarian standards.
Ability to effectively develop rapport and relate to donors, NGO's, Counterparts and government authorities or agencies.
Excellent presentation skills.
Fluency in written and spoken English required.
Experience in supervising staff and conducting capacity building workshops.
Ability to solve problems and prioritize many demands without losing focus.
Additional work experience required as a minimum qualification for this position
3-5 years' experience as a Cash/Programs Officer or Coordinator for a Health, WASH programs
Very strong organizational, management and negotiation skills
Demonstrates well-developed interpersonal skills
Must possess sound people management skills and effective cross-cultural / pluralistic context capabilities.
​License, registration, or certification required to perform this position:
Fluency in written and spoken English.
Fluency in Arabic required
Work Environment:
The position requires ability and willingness to travel domestically.
WORKING RELATIONSHIPS
| | | |
| --- | --- | --- |
| Contact(within WV or outside WV) | Reason for Contact | Frequency of Contact(Daily, Weekly, Monthly) |
| Ministry Quality/GAM | Update on program implementationFeedback on implementation, donor meeting,Engagement on new program strategies | -Almost on weekly basis |
| People and Culture Unit/Finance | Recruitment and SelectionStaff appraisalMonthly review of the Program budgets | On weekly and monthly basis |
| Technical Team Lead (Cash Transfers, Health and WASH) | Sharing information on major issues on program implementation and new initiatives, donor reporting | DailyWeekly and monthly |
| Other Program Managers | Integrated programming approach, sharing areas of coordination, successes, learning | Daily, weekly, monthly |
| Support Offices (WVUS) | Engagement on Program Implementation supported by GAM | Weekly |
All applications should be submitted to Labour Office HAC not later than June 30 2021
About World Vision in Sudan
As a child-focused organisation, our goal is to see children reach their full potential. We don't just want children to survive, we want them to thrive! We began working in Sudan in 1983, our programmes were initially operational until 1988. In June 2004, we resumed operations, in response to the Darfur Crisis.
Today, our teams of dedicated development and humanitarian professionals work tirelessly to contribute to the improved well-being of boys and girls through multi-sectoral and community-based programmes across four states: South Darfur, Blue Nile, East Darfur and South Kordofan. Our headquarters are in Khartoum.
We remain committed to our vision of life in all its fullness for all children. By 2020, we hope to have positively affected 2.5 million boys and girls in Sudan.
What is the main purpose of World Vision?
World Vision is an international partnership of Christians whose mission is to follow our Lord and Saviour Jesus Christ in working with the poor and oppressed to promote human transformation, seek justice and bear witness to the good news of the Kingdom of God.
What countries does World Vision work in?
What countries does World Vision work in? World Vision works in some of the poorest countries in the world where the need for help is greatest. The World Vision Partnership works across Asia and the Pacific, Africa, Latin America and the Caribbean, and the Middle East, Eastern Europe and Central Asia.
For jobs from World Vision in Sudan visit : World Vision Jobs Page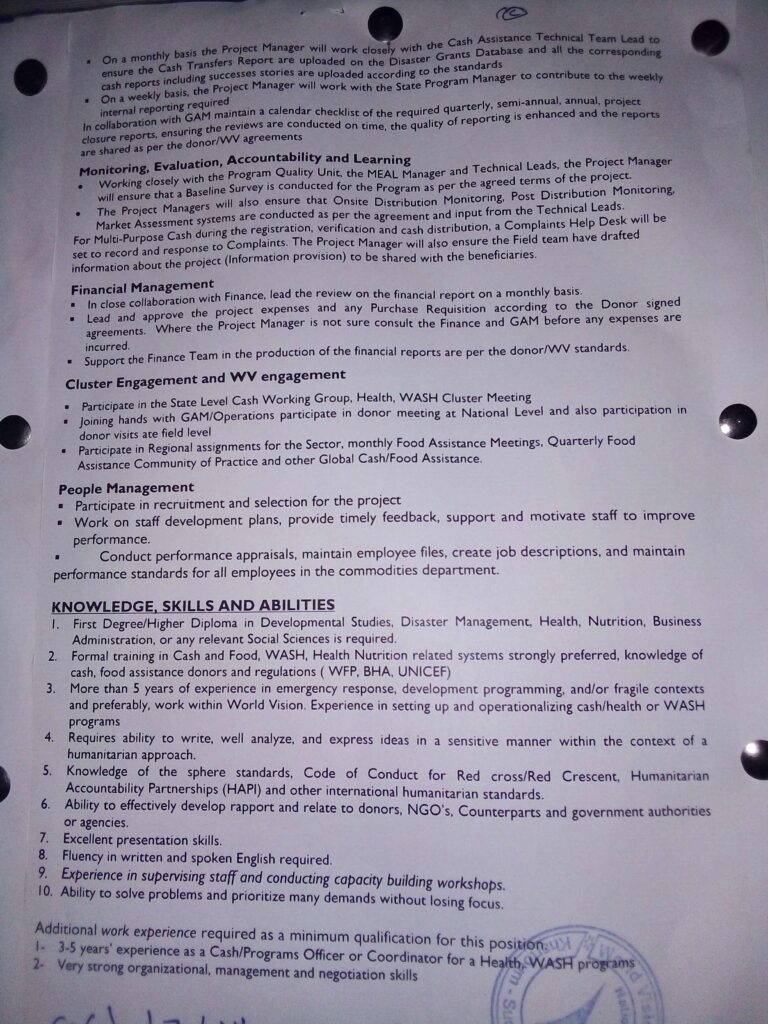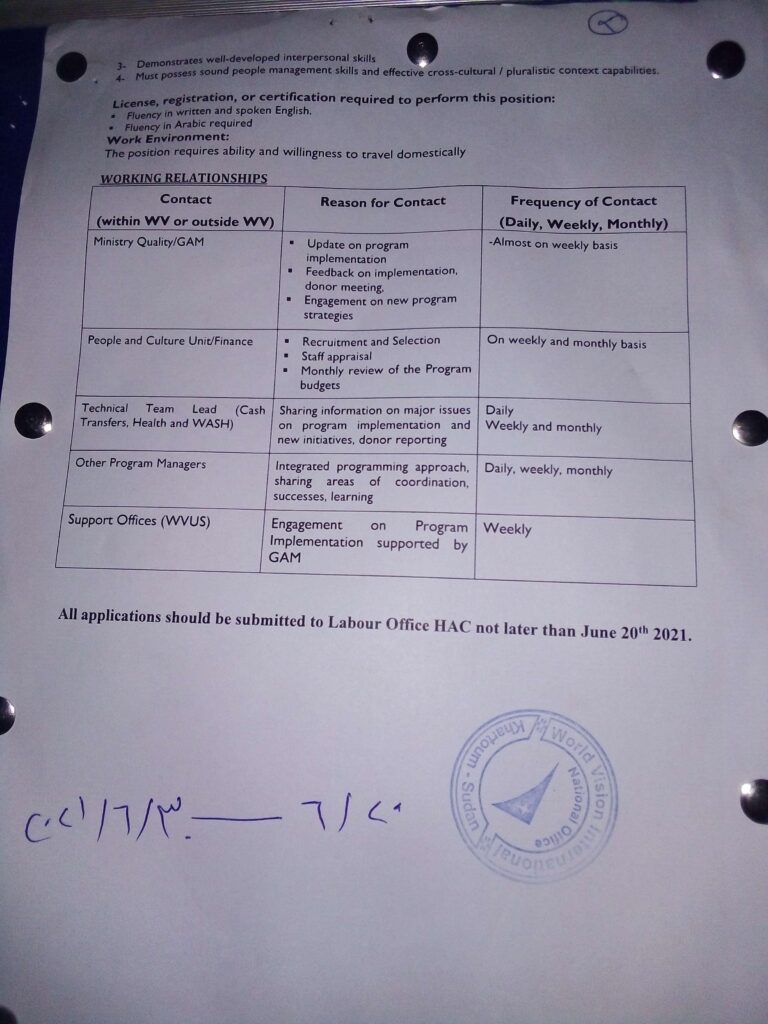 Related posts