Accountant – World Vision
World Vision is an international Christian humanitarian organization founded in 1950 with operations in nearly 100 countries worldwide. In Sudan, World Vision has programs in Darfur, Blue Nile, East Darfur, South Kordofan & Khartoum states. Our interventions are in early childhood education, health and nutrition, income generation and sustainable livelihoods. We serve all people regardless of religion, race, ethnicity, or gender.
World Vision Blue Nile seeking to recruit qualified Accountant based in Khartoum State.
PURPOSE OF POSITION
Provide overall leadership in monitoring and control of project budget to make sure that expenses are in line with approved budget. To manage the project budget as per the grant agreement and cash flow and comply with the grant requirements. To manage the project bank account as stipulated in FFM.
MAJOR RESPONSIBILITIES
% Time
Major Activities
10%
Capacity building
* Provide financial training to local NGOs and regularly visit them to check the financial documents.
60%

Reporting and reviewing
* Review payments and make sure that they have been rightly approved and have all backups like purchase requisitions, good received notes, LPOs, contracts, quotations, procurement minutes, and invoices.
* Review the liquidation reports from LNGOs and prepare JVs from their financial statements
* On a monthly basis prepare LNGOs financial statement of funding, liquidations and outstanding amounts to be liquidated.
* Support Taadadou(DFID) project coordinator with review of payment documents in regards to coding, budgeting and reporting.
* Review the LNGOs installment requests and make sure there are backups of last liquidation reports, contracts of funding, fund requests and budgets

30%
Others
* Occasionally support in sun data entry
* Do the bank reconciliation of bank accounts in absence of senior finance officer.
* Any other business as instructed by the supervisor.
KNOWLEDGE, SKILLS AND ABILITIES
List education, knowledge & skills, licenses preferred, and all experiences required to perform this position in a fully competent manner.
Minimum education, training and experience requirements to qualify for the position:
List academic requirements (if applicable), technical skills, or other knowledge required as a minimum qualification for this position.
Bachelor's degree in business administration in field of finance or accounting.
Requires a minimum of 2-3 years experience working in finance preferably with international organizations.
Must have a proven knowledge of Generally Accepted Accounting Principles and a practical knowledge of financial systems and internal controls.
Require proven knowledge and experience in Microsoft excel and word
Must have good oral and written communication skills.
Work Environment:
Office Based
Section II – POSITION DESCRIPTION QUESTIONNAIRE
WORKING RELATIONSHIPS
List and describe all contacts (do not include your direct supervisor or subordinates) required in order to efficiently accomplish this position. Begin with the most important contacts. Be specific (e.g. UN leaders, strategic directors or subject matter experts from other NGOs, or other technical specialists from key arenas, etc.)
| | | |
| --- | --- | --- |
| Contact(within WV or outside WV) | Reason for Contact | Frequency of Contact(Daily, Weekly, Monthly) |
FREEDOM TO ACT
Describe decision-making responsibilities this position may have that do not require prior approval. Specify what actions are necessary in order to facilitate the completion of the specific tasks and how it is reviewed.
Routine decisions within scope of work.
Decisions related to day to day responsibilities as per job description.
Decisions made within policy and within defined standards.
All applications should be submitted to Labour Office HAC not later than June 17th 2021.
For jobs from World Vision in Sudan visit : World Vision Jobs Page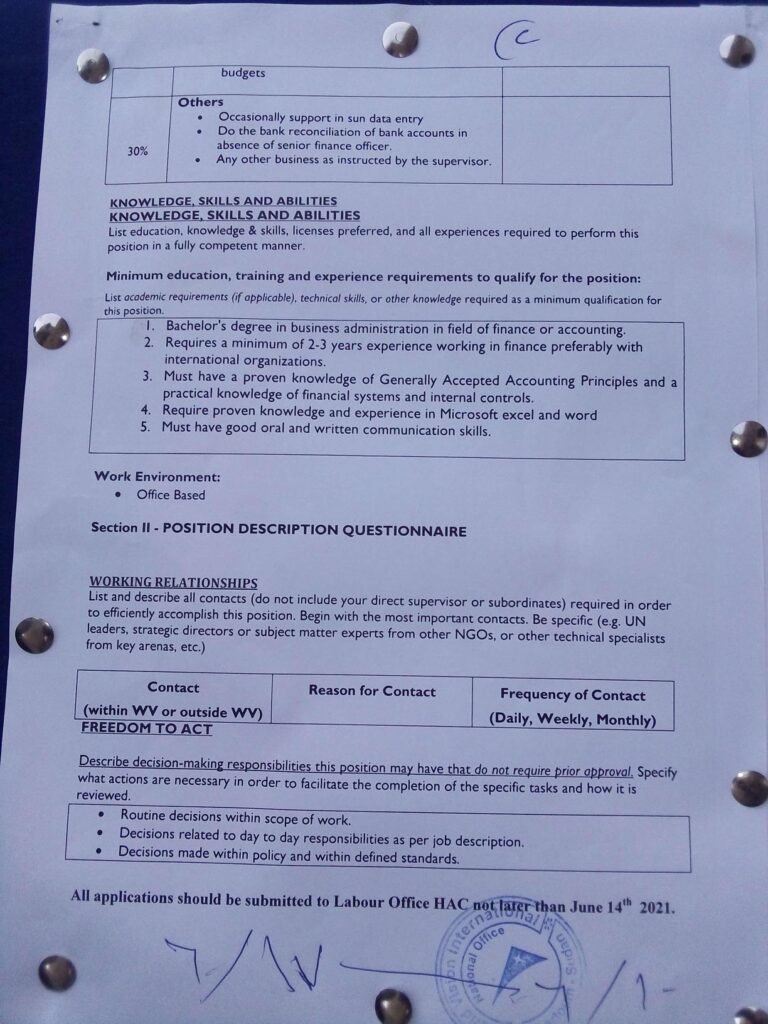 Related posts