People and Culture Business Partner – (Recruitment, ER, & MPP) – World Vision
World Vision is an international Christian humanitarian organization founded in 1950 with operations in nearly 100 countries worldwide.
In Sudan, World Vision has programs in Darfur, Blue Nile, East Darfur, South Kordofan & Khartoum states. Our interventions are in early childhood education, health and nutrition, income generation and sustainable livelihoods. We serve all people regardless of religion, race, ethnicity, or gender.
World Vision Khartoum State seeking to recruit qualified People and Culture Business Partner – (Recruitment, ER, & MPP) based in Khartoum.
PURPOSE OF POSITION
To Manage, develop, execute, administer and follow up long & short term manpower plans; supervise the activities of the manpower and recruitment section in the P&C Department and ensure that all the activities are carried in compliance with established Organization policies and procedures. This is in particular for all national staff recruitment, overall Employee relations duties, business partnering with managers and coordinating the staff care management in line with WV Sudan People & Culture policies and Partnership standards.
MAJOR RESPONSIBILITIES
% Time
Major Activities
End Results Expected
30%
Recruitment & Selection
(Workforce Planning & Reports)
Partner with all line managers for full support in national recruitment and manpower planning for E&SD, including monthly vacancies reports.

Workforce planning and preparation of monthly and recruitment forecasts/projections per department.
Prepare monthly recruitment and other relevant statistical reports for P&CD to present at Senior Management team meetings.
Monitor and maintain data/reports relating to the funding of positions.
Develop and implement a recruitment audit tool for monitoring the efficiency of the recruitment function.
Prepare and attend regular manpower planning meetings with P&CD to consider vacancies and recommend options.
Assist and support Heads of Department in preparing business cases for submission to the P&CD.
Preparation of Job Descriptions and Person Specifications with Heads of Department.
Receive requests to recruit from the Departments, ensure there is a job description for each request as per approved title scheme
Responsible for the advertising of all vacancies and decide on appropriate method in line with WVS policy and relevant regulations.

Liaise With All Concerned I.E. P&C Director, Line Managers, HAC And Other Local Authorities On Recruitments / Other Related Issues For External Candidates.

Advise Line Managers on employment procedures, processes and Sudan labor legislation.
Ensure Line Managers and staffs comply with WV Sudan policies and procedures
Participate in shortlists with the help of the Supervisors of the various departments/ projects (HAC authorities included where external candidates are concerned)
Schedule interviews, invite interviewees and inform panelists well in time.
Attend all interviews and produce standard minutes for a job interview.
Ensure that all the necessary steps are taken to facilitate recruitment of competent and diverse staff for the program.
Ensuring recruitment competitions and that all stages from shortlisting to interview to reference checks and contract stage are in compliance with WVS policy and best practice.
Agree with C&B & P&CD re salary for new employees and that it's in line with relevant salary scale and negotiate and agree salaries for agency placements.
As required, manage work permit process with Liaison office in order to ensure employee permits are up to date and WVS is in full compliance with the Work Permits and or Labor Office regulations.
Liaise with external stakeholders, Recruitment, employer bodies, advert agencies, etc.
Ensure all documentation for personnel files are maintained and set up for payroll.
Responsible for managing the probation process with the Recruitment team.
Management of all staff movements within the organization.
Manage and coordinate the Recruitment Assistants/team workload.
Work on the Communication and Employer Branding Strategy
Workforce strategy – management, development and implementation of projects. competency based framework, and conduct exit interview process

20%
Contract Management
Management of Staff contracts (new, renewal, modification, transfer or ending),

a)Manage contract process of employment (new, renew and ending)
b)Partner with all Line mangers re new/ending contract, renewals, transfer or has an amendments, ensuring prior approval is obtained for the concerned.

C) Ensuring That Files Of All Existing Staff Contain Current Contracts And That The Salary Indicated In The Staff Files Tallies With The Approved Salary Grades As Well As What Is Indicated In The Payroll.

D)Documenting Any Amendment In Staff Contract Such As Transfer To Another Department Or Change In Grade &/Or Salary And Ensuring That All Process Are Approved Kept In Staff File.
e)Inform sector managers in writing, two months in advance of contracts coming to an end
f)Have the termination list ready at the end of any project, prior to release any staff should seek internal fit as required provided staff is a good performer to avoid long recruitment time.
g)In case of non-available opportunity, seek approval of the labor office for separation of those whose contracts shall not be renewed.

20%
Employee Relations And P&C Policy Applications
Employee/ Govt. Relations
A)Provide Support For General HR And Specific Employee Relations Queries
B)Attend To Staff Queries And Provide Policy Guidance For P&C Policies To All Staff.
C)Take A Keen Interest In The Personal Affairs Of Staff At Work And Be The Contact Person To Provide Updates To P&CD On Issues Needing Urgent Attention.
d)Enforce the organization's code of conduct and disciplinary procedures.
e)Arbitrate on staff conflict and complaints providing resolutions as per the organization's guidelines.
f)Conduct hearings and investigations where necessarily making recommendations to the P&CD and management
g)Represent the P&CD and management in external industrial relations engagements. Like attending to court cases etc.
h)Work with the appointed legal advisor in handling disputes and litigations against the organization.
i)Ensure staff well-being in terms of office space, equipment, medical insurance, leaves and work-life balance is maintained at all times
j)Compile without fail a monthly Update on Staff Welfare- Situational Report for cases of non-work attendance due to prolonged illness/ injury or any other reasons.

10%
Direct relations with HAC and Government officials
recruitment polices and guidelines

JDs maintenance & Update.

a)Develop and maintain close relationship with HAC & Govt officials
b)Update, apply all related rules and regulations avoid WVS any legal issues in regard to recruitment
C)Ensuring that all job descriptions are available, properly graded in accordance with the Hay Grading system in coordination with C&B HRBP / P&CD.
5%
Daily Tasks & Office Communication
a)ensure daily tasks are carried effectively and efficiently,
b)Complete Office Communications, management in terms of correspondences and any other related tasks
5%
P&C Staff Capacity Building,
a)Responsible for P&C staff capacity building in respective staff and self-development in area for growth.
5%
Analysis And Reports
a)Generate all sort of related reports in a timely manner with required analysis i.e. quarterly management report, vacancies and termination report list. Workforce report etc.…
b)Recommend staff transfer, promotion and termination based on feedback, performance results, and line manager recommendation.
5%
Other Related Jobs
a)Any other related job as advised/requested by P&C Director/Superior.
KNOWLEDGE, SKILLS AND ABILITIES
A university degree in Human Resource/ Business Management, Social Science
Technical Training Qualifications required: Diploma / Certificate in Human Resource preferable.
Minimum three years' experience working in HR in INGO/ Business sectors
Demonstrates well-developed interpersonal skills, excellent communication skills, both verbal and written.
Very good customer service skills and problem solving skills.
Excellent attention to details with good analytical skills.
Ability to work in a multicultural environment and promote team cohesion.
Extensive knowledge of national staffing processes and policies.
A good understanding of Sudan labor laws,
Thorough knowledge of office systems, including computer applications in Microsoft office.
Planning and Organizing
Demonstrates an ability to manage and develop self and others in a busy working environment
Anticipates problems and issues and take preventative action to address these
Delegates effectively to ensure objectives are achieved
Sets realistic timeframes
Prepares by ensuring adequate resources are available
Ensures resources are utilized in an effective and efficient manner
Preferred Skills, Knowledge and Experience:
As per the specialization/ requirement of the job.
Work Environment
Complete Travel and/or Work Environment statements if applicable.
Work environment: Office-based with some non-frequent travel to the field/other offices.
WORKING RELATIONSHIPS
Contact
(within WV or outside WV)
Reason for Contact
Frequency of Contact
(Daily, Weekly, Monthly)
P&C Director, Leadership in whole country
Support, Guidance/ Approval
Daily, Weekly
Lawyers / Govt Officials
Legal services; Labor disputes representation, Legal counsel and services
As and when requires
Line Managers & staff
Personnel and Recruitment processes
Daily / As needed
FREEDOM TO ACT
Provides management of National staff recruitment processes.
Responsible for the National staff contract management.
Responsible for National Office Workforce planning reports.
Describe any decisions making referred to higher authority or that are controlled by policy, Indicate how
Audit recommendations discussed with and action plans agreed for implementation.
P&C Risk Register regularly updated and controls recommended to for decision making and advice.
Salary offered to new candidates.
Describe the most common way in which this position assign work and how it is reviewed,
Delegation of related duties
Interpersonal Skills
1. Customer service focus, detailed oriented, patience.
---
All applications should be submitted to Labour Office HAC not later than June 17th 2021.
For jobs from World Vision in Sudan visit : World Vision Jobs Page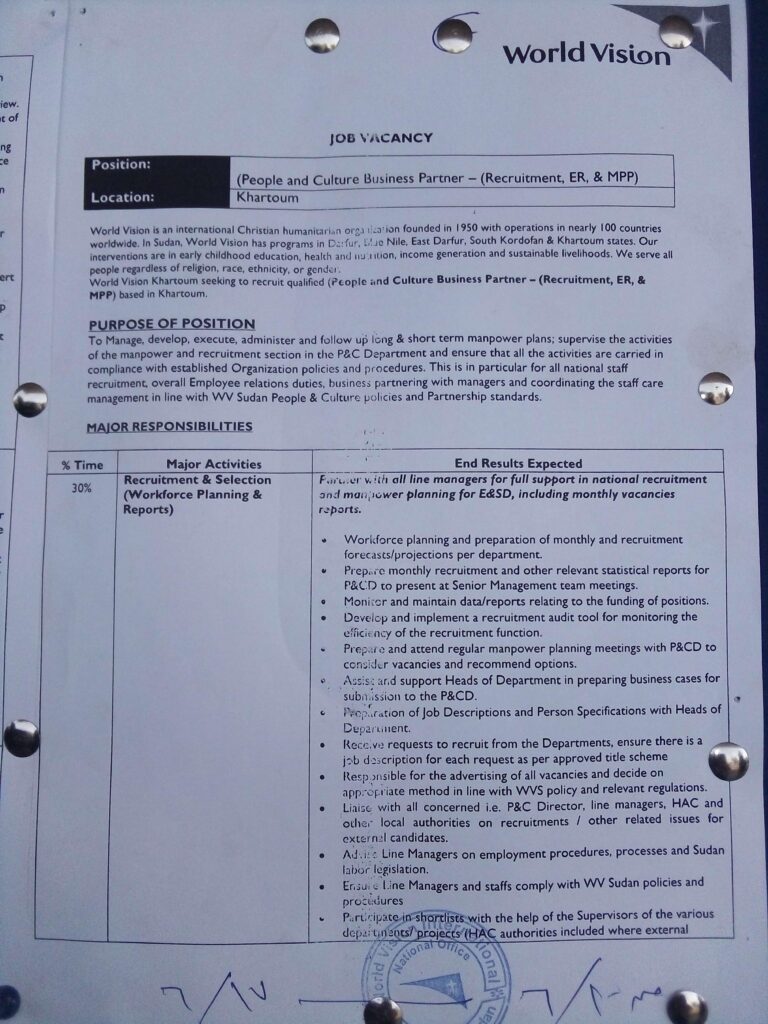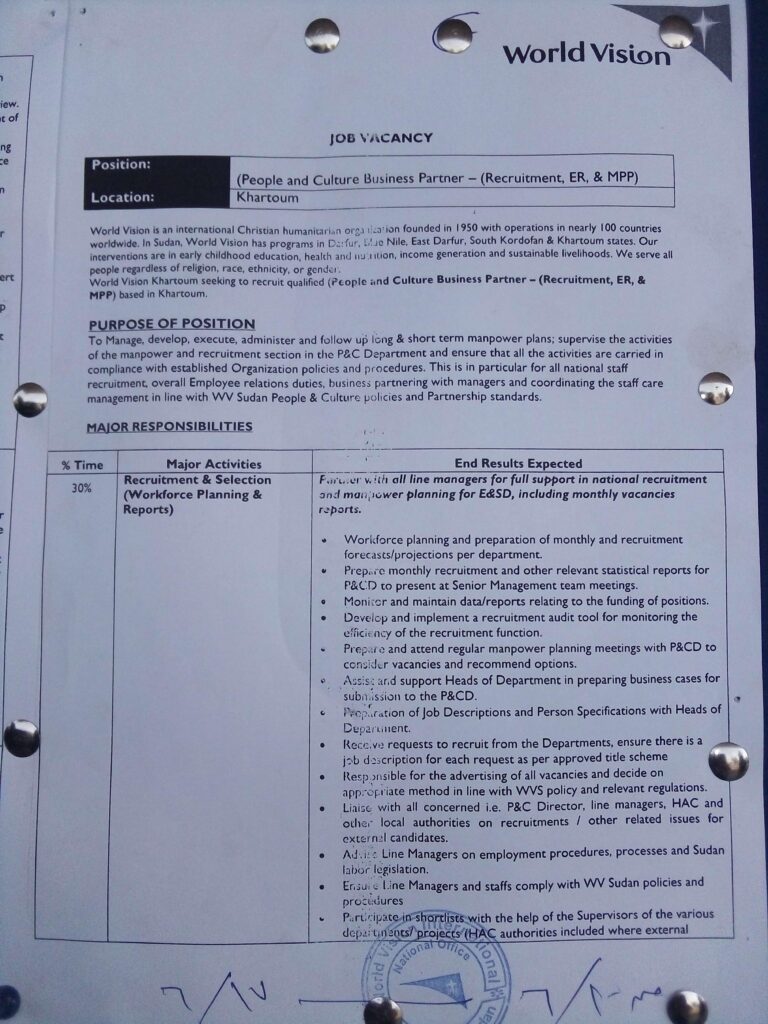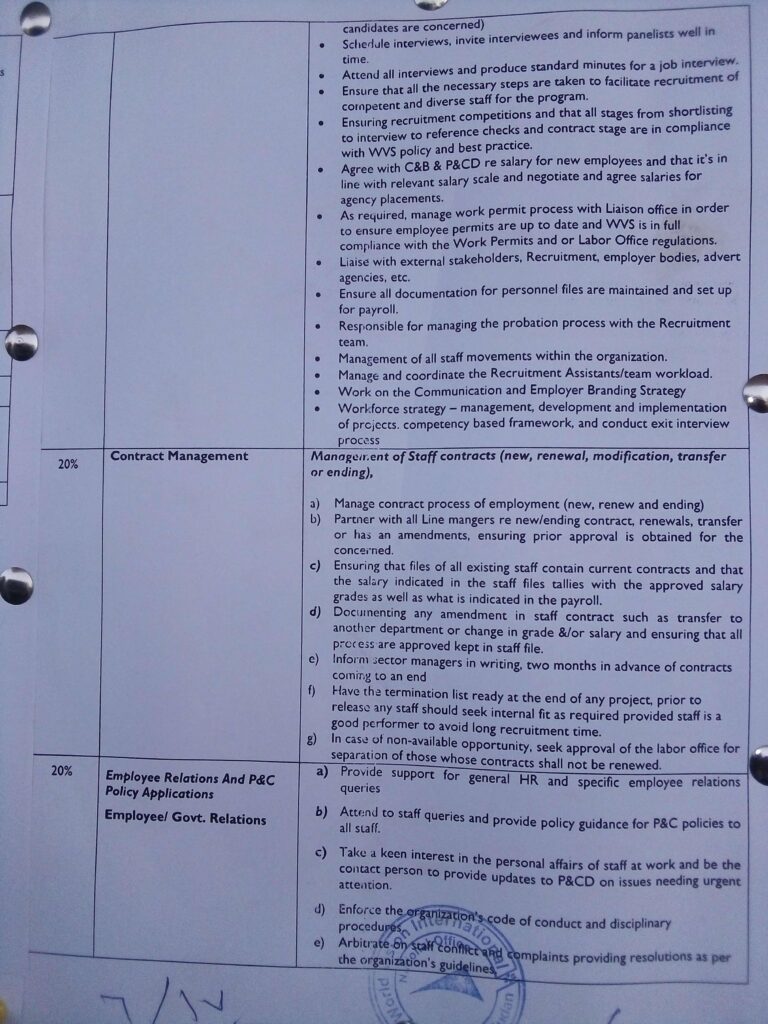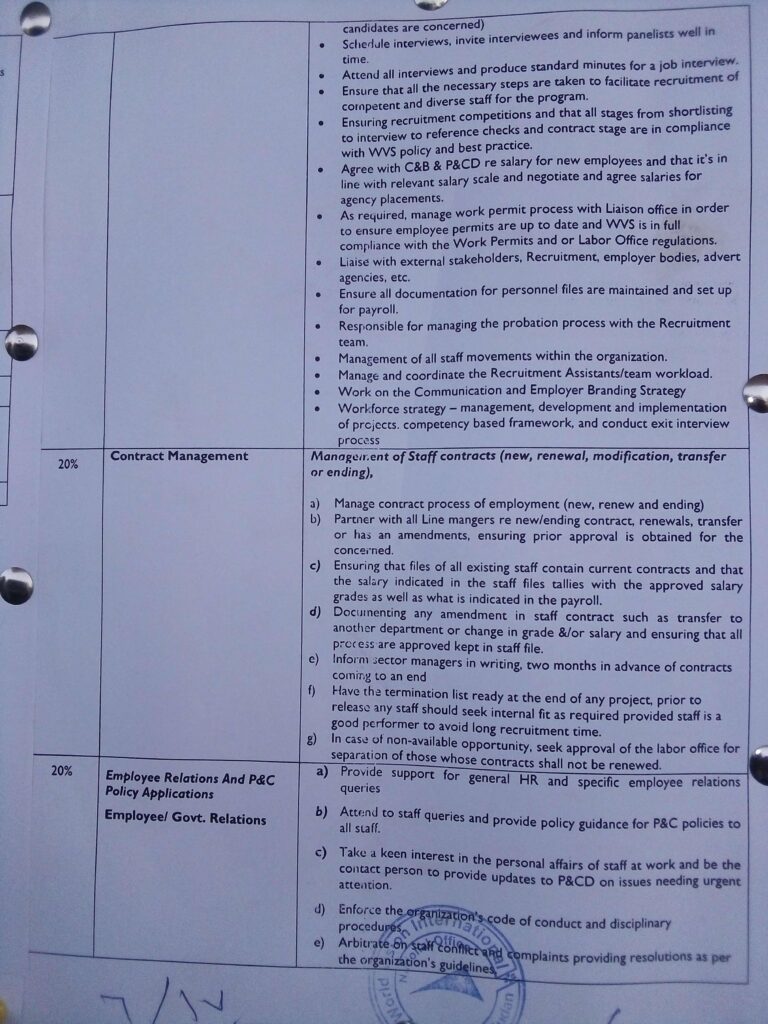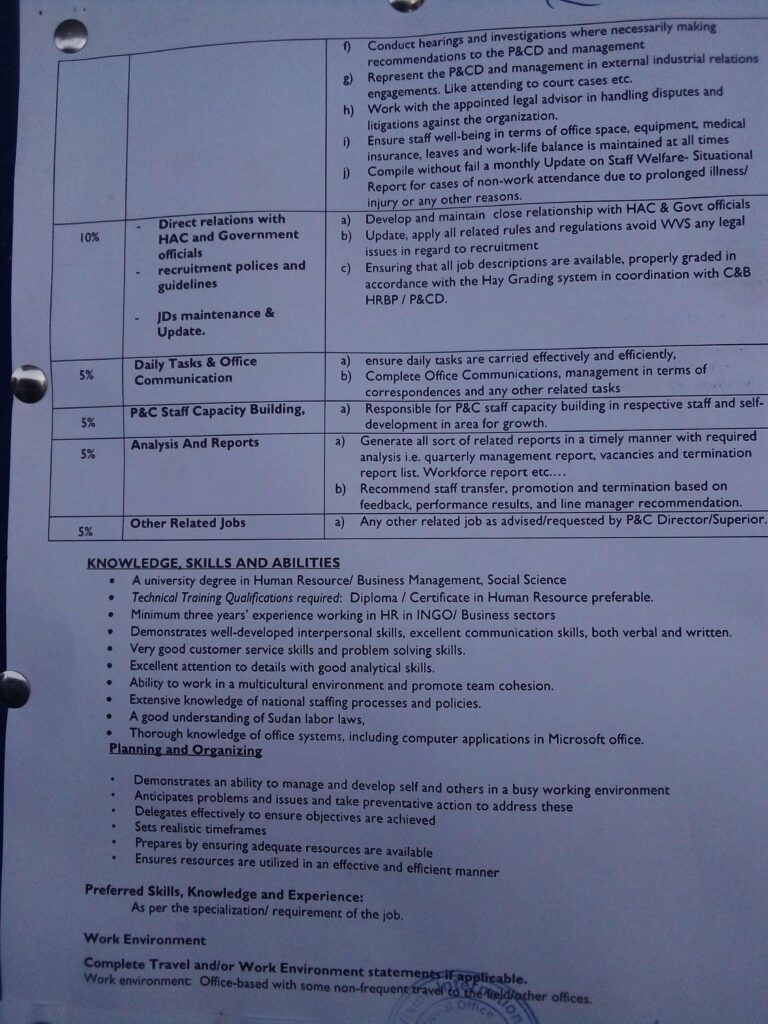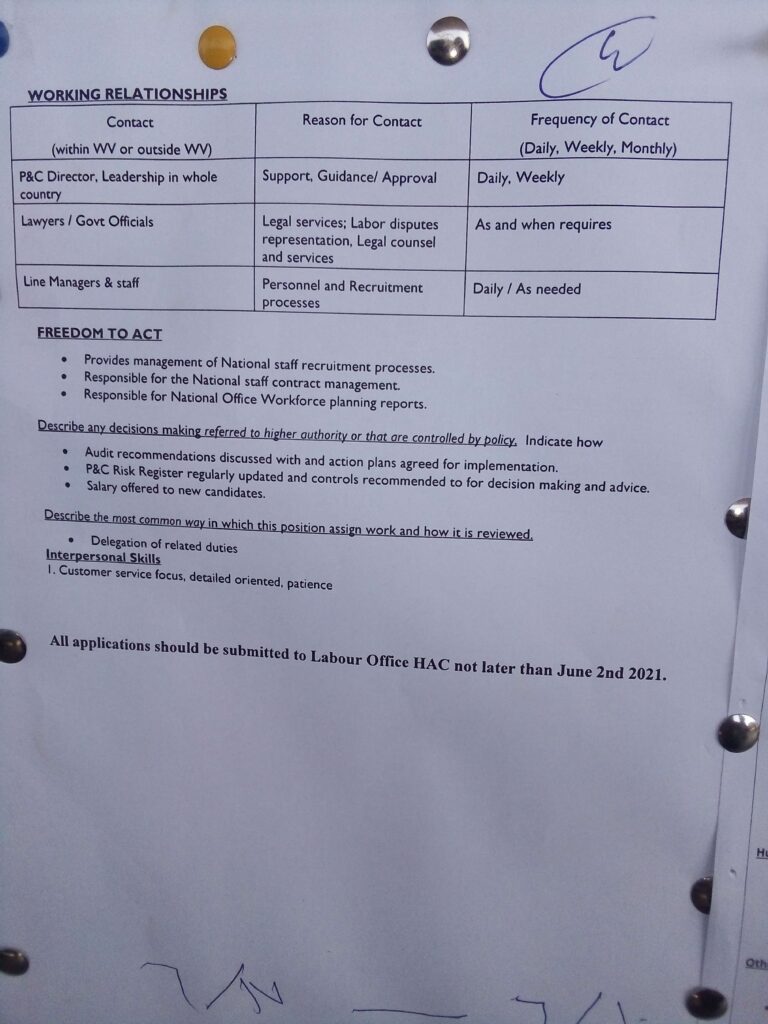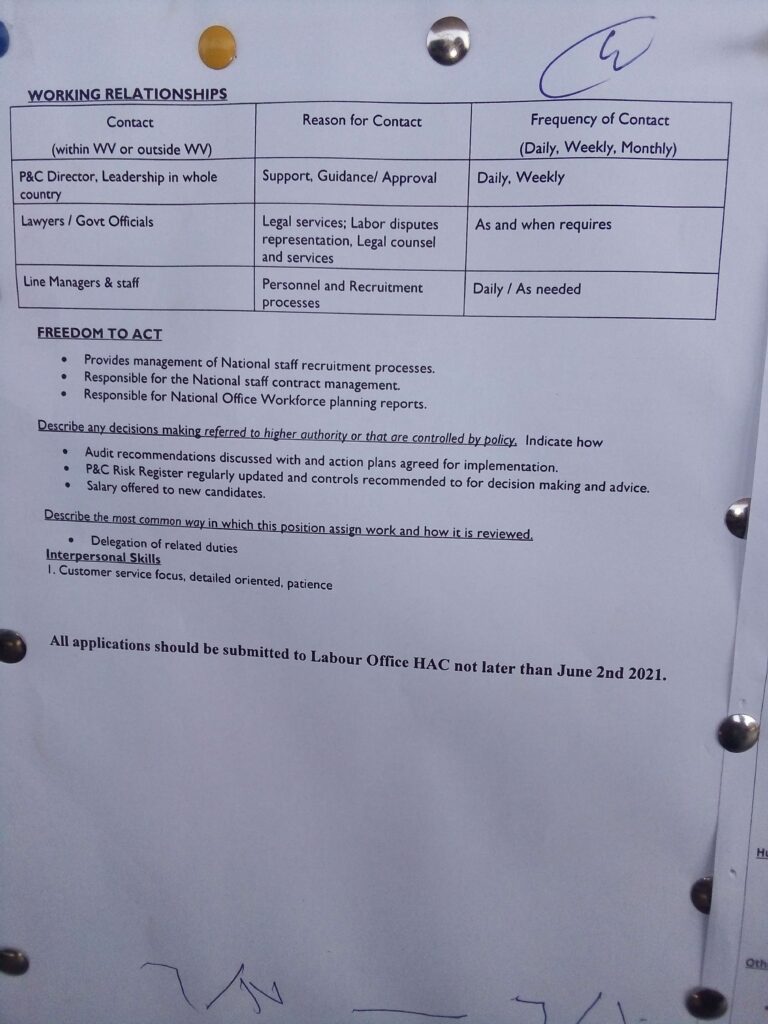 Related posts