Liaison Officer – (MSF-Belgium)
Job Description
| | |
| --- | --- |
| Organization: | Médecins Sans Frontières (MSF) |
| Reports to (Hierarchical): | HR Manager |
| Reports to (Functional): | HR Manager; HOM/HRCO |
| Job Family: | HR & Fin |
| Salary: | 625 USD |
| Deadline: | 17/06/2021 |
Main Purpose
Give support to external administrative work and to the coordination team in obtaining working travel permits, as well as all Official contacts, procedures and importation of goods, according to local and international laws and MSF procedures, in order to ensure the smooth running of MSF activities.
Accountabilities
Together with the HR Manager, lodge application and obtained on time visa, stay, entry exit, travel or working permits for all MSF staff in the mission according to needs, and in compliance with the country's legal administrative procedures.
Ensure that information for all applications to the authorities is accurate, properly documented.
Keep the HR Manager, HRCo and HQ Admin updated/informed about ongoing processes, specific situations or changes in the procedures related to visas, travel, entry/exit working permits, etc.
Establish and maintain professional contacts with relevant authorities, depending on the context and the needs of the mission.
Arrange meetings related to administrative issues for the Head of Mission and/ or the HRCO as well as attend them, when required.
Create and keep an updated detailed list of all useful contacts of relevant authorities in HAC, Immigration, etc.
Based on the Memorandum of Understanding/Technical Agreement signed with the authorities, inform of any
possible risks or problems that could affect the application of visas/ permits.
Keep all documentation and files updated properly filed and easily accessible for authorized internal users.
Requirements
| | |
| --- | --- |
| Education | Diploma in Administration related studies |
| Experience | At least one year previous experience with MSF or other INGOs in similar position |
| Language | Good Oral & Written Arabic and English |
| Knowledge | Computer literacy |
About MSF
Médecins Sans Frontières (MSF) translates to Doctors without Borders. We provide medical assistance to people affected by conflict, epidemics, disasters, or exclusion from healthcare. Our teams are made up of tens of thousands of health professionals, logistic and administrative staff – bound together by our charter. Our actions are guided by medical ethics and the principles of impartiality, independence, and neutrality. We are a non-profit, self-governed, member-based organization.
MSF was founded in 1971 in Paris by a group of journalists and doctors. Today, we are a worldwide movement of nearly 65,000 people.
Address: Rue de l'Arbre Bénit 46, 1050 Bruxelles, Belgium
What is the goal of MSF?
Our mission is to provide lifesaving medical care to those most in need. All MSF members agree to honor the following principles: MSF provides assistance to populations in distress, to victims of natural or man-made disasters, and to victims of armed conflict.
How To Apply
Interested candidates are requested to send their CV, Copy/ copies of education certificate(s) and Copy of work experience certificates to:
HAC Labour office, Khartoum
or
MSF Belgium, street 27, house 14 Amarat, Khartoum
Opening date: 10/06/2021 – Closing date: 17/06/2021
For jobs from Doctors without Borders in Sudan visit : MSF Jobs Page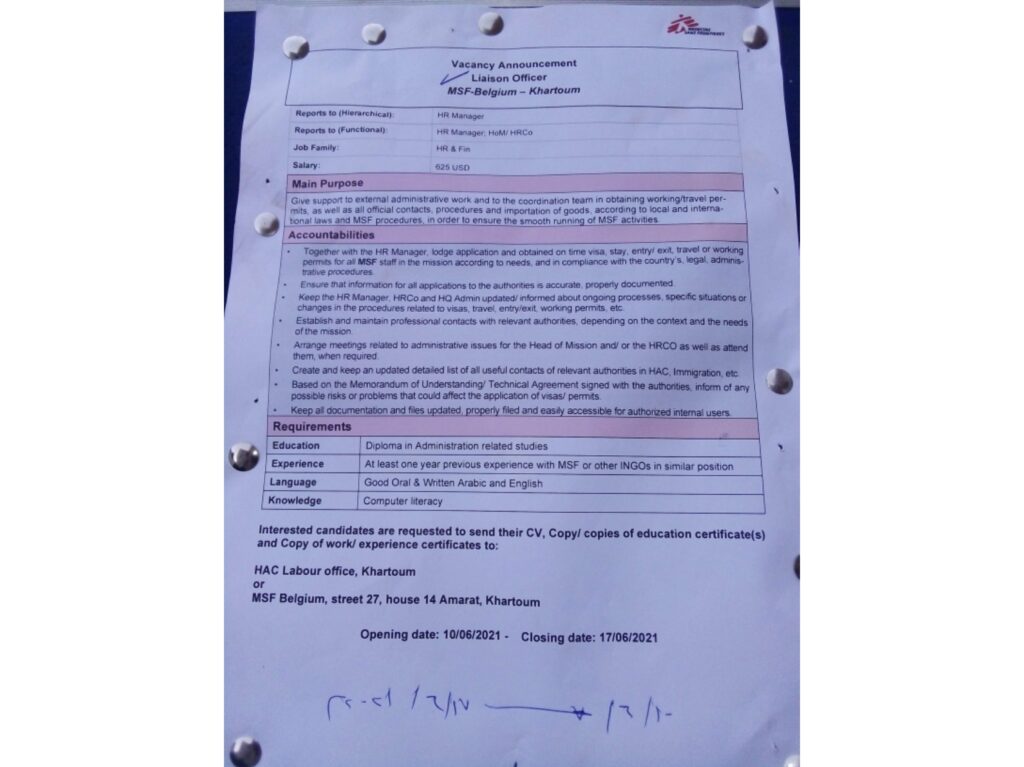 Related posts