Finance Manager – (MSF-Belgium)
Job Description
| | |
| --- | --- |
| Organization: | Médecins Sans Frontières (MSF) |
| Reports to (Hierarchical): | Head of Mission |
| Reports to (Functional): | Finance Coordinator; HOM |
| Job Family: | HR & Fin |
| Salary: | 1394 USD |
| Deadline: | 17/06/2021 |
Main Purpose
Coordinating and supervising the implementation of the Finance procedures tools and ensuring the correct use of Financial Resources at mission level according to MSF protocols, standards and procedures in order to provide quality, reliable and transparent information to the organization on the use and allocation of resources in the coordination.
Accountabilities
Implementing circuits and workflows (management of cash boxes, transfers, advances, purchase procedures, payment validations, follow up of regular payments, bank reconciliations) in order to anticipate expenses at project level and to optimize cash needs and its security.
Implementing and supervising transactional procedures and systems in order to ensure transparent accounting practices and full traceability (invoices, receipts, bank statements, etc.), according to MSF guidelines and rules and using the respective software in place.
Ensuring the timely execution and control of the monthly and yearly accountancy closure, with due quality.
In close collaboration with the HOM and the Finance Coordinator defining, analysing and following up the project budget in order to ensure that funds are used according to funding contracts and proposing corrective action if needed.
Ensuring financial reporting of the mission (financial software) monthly closure, sitreps, external donors, etc.).
In close collaboration with the FinCo, following up all service contracts (premise and vehicle rental contracts deposits, rent payments, etc.), ensuring that MSF staff who have financial responsibilities are aware of and comply with local finance procedures, including those related to security.
Requirements
| | |
| --- | --- |
| Education | Degree in finance, business management (finance) or accounting |
| Experience | At least two years previous experience with MSF or other INGOs in similar position |
| Language | Good Oral & Written Arabic and English |
| Knowledge | Computer literacy |
About MSF
Médecins Sans Frontières (MSF) translates to Doctors without Borders. We provide medical assistance to people affected by conflict, epidemics, disasters, or exclusion from healthcare. Our teams are made up of tens of thousands of health professionals, logistic and administrative staff – bound together by our charter. Our actions are guided by medical ethics and the principles of impartiality, independence, and neutrality. We are a non-profit, self-governed, member-based organization.
MSF was founded in 1971 in Paris by a group of journalists and doctors. Today, we are a worldwide movement of nearly 65,000 people.
Address: Rue de l'Arbre Bénit 46, 1050 Bruxelles, Belgium
What is the goal of MSF?
Our mission is to provide lifesaving medical care to those most in need. All MSF members agree to honor the following principles: MSF provides assistance to populations in distress, to victims of natural or man-made disasters, and to victims of armed conflict.
How To Apply
Interested candidates are requested to send their CV, Copy/ copies of education certificate(s) and Copy of work experience certificates to:
HAC Labour office, Khartoum
or
MSF Belgium, street 27, house 14 Amarat, Khartoum
Opening date: 10/06/2021 – Closing date: 17/06/2021
For jobs from Doctors without Borders in Sudan visit : MSF Jobs Page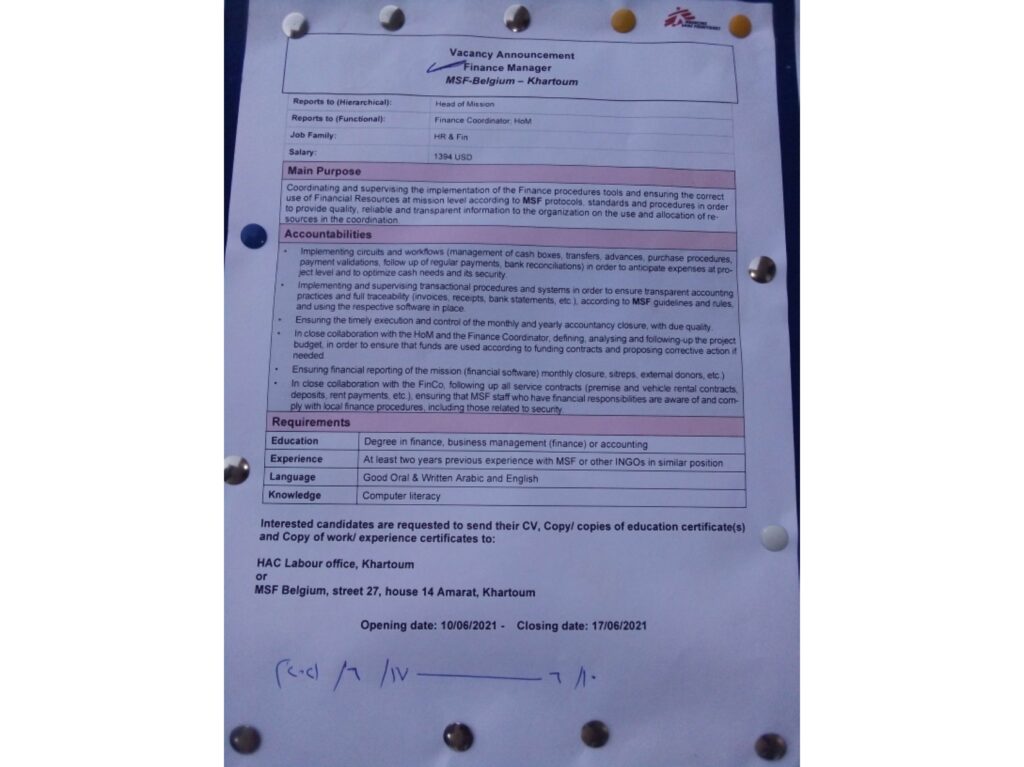 Related posts