HR Manager – (MSF-Belgium)
Job Description
| | |
| --- | --- |
| Organization: | Médecins Sans Frontières (MSF) |
| Reports to (Hierarchical): | Head of Mission |
| Reports to (Functional): | HR Coordinator, HOM |
| Job Family: | HR & Fin |
| Salary: | 1394 USD |
| Deadline: | 17/06/2021 |
Main Purpose
Responsible for the implementation of Human Resources policies in the mission and the correct Administrative Management of all staff working in coordination (National International Relocated, etc).
Accountabilities
Advise the HoM on set up (org chart) and together with the HR Coordinator, update the organizational chart and job descriptions, calculating the HR needs and associated budget.
Ensure hiring, carry out amendments and contract termination formalities for employees, according to local labour laws archiving and updating individual employee files informing them on their rights and preparing all mandatory tax declarations, in order to ensure legal compliance.
Perform payroll procedures, ensuring that all data related to monthly salary calculation of national employees are correctly entered in Homere (days off, unpaid leaves, sick leaves, overtime, salary advance, etc.), in order to ensure on time and accurate salary payments.
Support, in close coordination with the HRCo, and the line managers in detecting training needs, proper evaluation of staff performance, in order to improve staff capabilities, and their end results contribution to mission goals.
Plan and supervise, in close coordination with the HRCO, the associated processes (recruitment, training/induction, evaluation, potential detection, development and communication) of the staff under his/her supervision.
Ensures all staff (National, International, Relocated, visitors, etc.) are properly briefed and/or inducted.
Responsible for all movements and/or accommodation of staff visiting the mission for official purpose.
Supervise the Liaison officer and support him/her to ensure all visa, permits are obtained.
Support/advise the project's HR Manager(s) on NS issues.
Requirements
| | |
| --- | --- |
| Education | Degree in management (business, HR) or administration. |
| Experience | At least two year in HR/ administration with MSF or other INGOs in similar position, Good knowledge of local administration/ labour laws |
| Language | Good Oral & Written Arabic and English |
| Knowledge | Computer literacy |
About MSF
Médecins Sans Frontières (MSF) translates to Doctors without Borders. We provide medical assistance to people affected by conflict, epidemics, disasters, or exclusion from healthcare. Our teams are made up of tens of thousands of health professionals, logistic and administrative staff – bound together by our charter. Our actions are guided by medical ethics and the principles of impartiality, independence, and neutrality. We are a non-profit, self-governed, member-based organization.
MSF was founded in 1971 in Paris by a group of journalists and doctors. Today, we are a worldwide movement of nearly 65,000 people.
Address: Rue de l'Arbre Bénit 46, 1050 Bruxelles, Belgium
What is the goal of MSF?
Our mission is to provide lifesaving medical care to those most in need. All MSF members agree to honor the following principles: MSF provides assistance to populations in distress, to victims of natural or man-made disasters, and to victims of armed conflict.
How To Apply
Interested candidates are requested to send their CV, Copy/ copies of education certificate(s) and Copy of work experience certificates to:
HAC Labour office, Khartoum
or
MSF Belgium, street 27, house 14 Amarat, Khartoum
Opening date: 10/06/2021 – Closing date: 17/06/2021
For jobs from Doctors without Borders in Sudan visit : MSF Jobs Page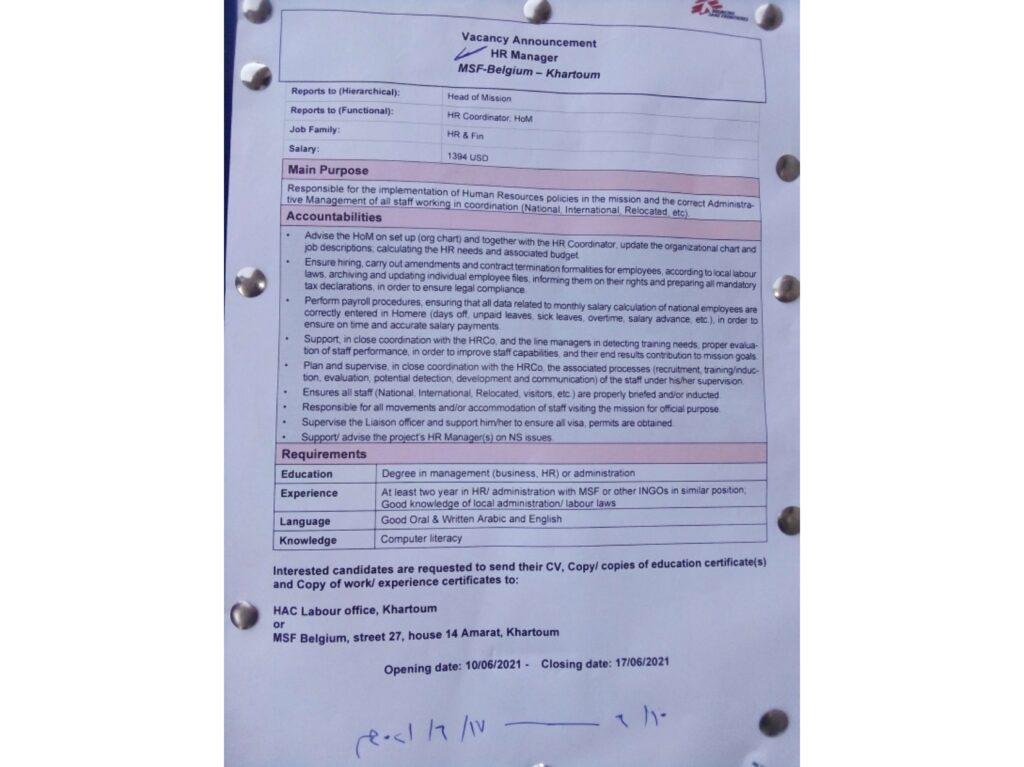 Related posts