Purchaser Storekeeper – (MSF-Belgium)
Job Description
| | |
| --- | --- |
| Organization: | Médecins Sans Frontières (MSF) |
| Reports to (Hierarchical): | Supply Manager |
| Reports to (Functional): | Supply Manager, Supply Coordinator |
| Job Family: | Logistics and Supply |
| Salary: | 625 USD |
| Deadline: | 17/06/2021 |
Main Purpose
Performing the day to day purchasing activities according to MSF protocols and executing the stock management activities (receipt, storage, and issuance to projects or other departments of medical supplies, food items, spare parts, tools, equipment and or other logistics materials) in order to ensure an optimal running of the mission.
Accountabilities
Performing on a day to day basis the purchasing activities in the mission analyzing market sources and competitive pricing conditions among different suppliers in order to ensure an ongoing such of goods following the procurement procedures and according to MSF standards and protocols Including the following activities:

Constantly assessing the local market, seeking products and suppliers that offer the best value for money and negotiating prices in order to guarantee the best quality and pricing for MSF goods and commodities
Obtaining different quotations from suppliers according to the MSF Purchasing policy and placing purchase orders to pre-selected suppliers with whom prices have been agreed Requesting invoices or receipts without delay, for all purchases, checking they are correctly filled and translating information written in local language before approval.
Managing the administrative and accounting procedures related to purchases: completing purchase orders, checking delivery notes (against orders), managing advances issued by the Finance Department, etc Updating information on purchase lists after purchases are made.

Receiving orders and deliveries, identifying and reporting potential discrepancies against cargo manifest or other Stores materials in accordance with the system in force in order to ensure continuous availability
Updating and/or creating stock cards for all stock items immediately after reception of goods. Checking the re ceived cold boxes and controlling the cold chain monitoring card.
Storing materials in accordance with the system in force in order to ensure continuous availability ensuring that all items are well organized and correctly stored, well protected, fully identified, and easily accessible (cleanliness security, access, etc.).
Monitoring the store temperature and ensuring Cold Chain items are stored in an adequate temperature Keeping a special control of 'sensitive goods: numbers of lots expiry dates, packaging and special storage conditions.
Requirements
| | |
| --- | --- |
| Education | Diploma in supplies or related studies |
| Experience | At least 2 years previous experience with MSF or other INGOs in similar position |
| Language | Good Oral & Written Arabic and English |
| Knowledge | Computer literacy |
About MSF
Médecins Sans Frontières (MSF) translates to Doctors without Borders. We provide medical assistance to people affected by conflict, epidemics, disasters, or exclusion from healthcare. Our teams are made up of tens of thousands of health professionals, logistic and administrative staff – bound together by our charter. Our actions are guided by medical ethics and the principles of impartiality, independence, and neutrality. We are a non-profit, self-governed, member-based organization.
MSF was founded in 1971 in Paris by a group of journalists and doctors. Today, we are a worldwide movement of nearly 65,000 people.
Address: Rue de l'Arbre Bénit 46, 1050 Bruxelles, Belgium
What is the goal of MSF?
Our mission is to provide lifesaving medical care to those most in need. All MSF members agree to honor the following principles: MSF provides assistance to populations in distress, to victims of natural or man-made disasters, and to victims of armed conflict.
How To Apply
Interested candidates are requested to send their CV, Copy/ copies of education certificate(s) and Copy of work experience certificates to:
HAC Labour office, Khartoum
or
MSF Belgium, street 27, house 14 Amarat, Khartoum
Opening date: 10/06/2021 – Closing date: 17/06/2021
For jobs from Doctors without Borders in Sudan visit : MSF Jobs Page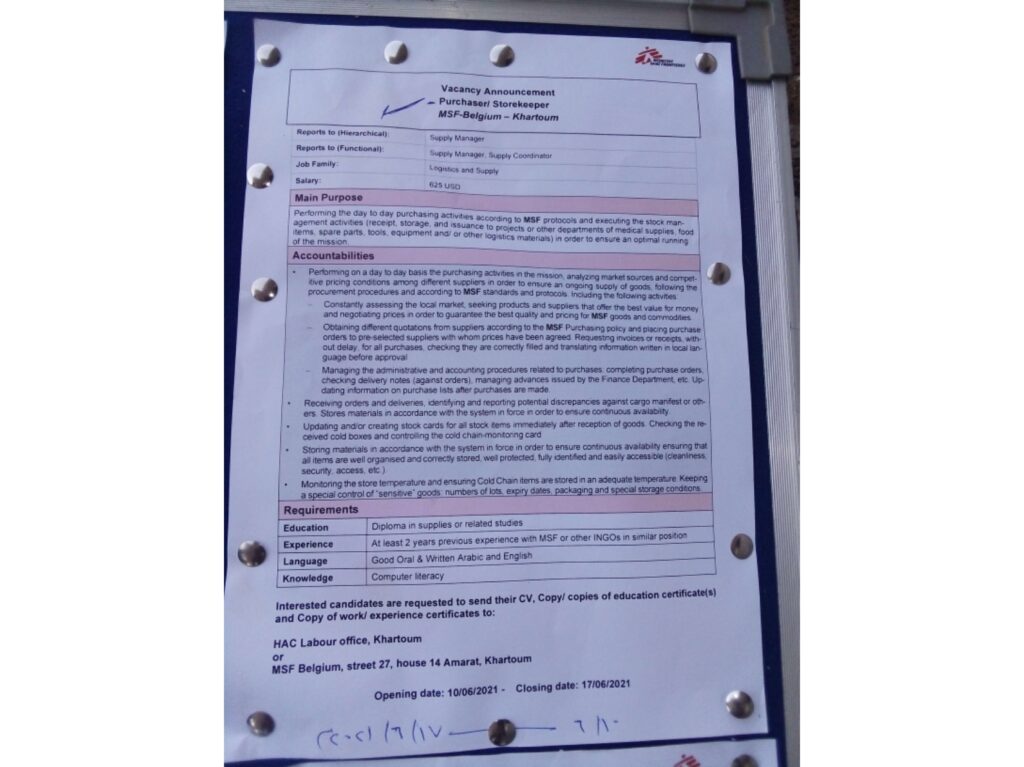 Related posts