PROJECT COORDINATOR – Islamic Relief Worldwide
Job Description
| | |
| --- | --- |
| Job Title : | PROJECT COORDINATOR |
| BASE LOCATION: | Zalingei, Central Darfur with visits to Nertiti Office. |
| Duration: | 12 month |
| SALARY and Grade: | 796 USD |
| REPORTING TO: | Central Darfur Programme Manager |
| LINE MANAGEMENT RESPONSIBILITIES: | FSL Officers, WASH Officer, Community Mobilizers |
| Deadline: | 20/06/2021 |
PURPOSE OF DIVISION:
Through capacity building and through technical and programme support, the International Programme Division keeps the organization focused on the socio-economic and humanitarian needs of vulnerable people.sep:The division reinforces IR's implementing structure to enable these people and their communities to develop themselves sustainably, and ensures that the organization is prepared to respond promptly and effectively to humanitarian crises.
The division increases the organization's ability to tackle poverty by developing and fostering partnerships and institutional relationships effectively and proactively, and by ensuring transparent and timely reporting to the organization's donors.
JOB PURPOSE:
Project Coordinator: IR USA Development Project – To coordinate and implement project activities in the area of specialism. May involve supervising Project Officers in area of specialism.
Senior Project Coordinator: Zalingei, Central Darfur – To coordinate the project activities including staff management, budget monitoring. To represent as needed. To implement project activities in the area of specialism.
KEY WORKING RELATIONSHIPS
Has regular contact with all staff in the Field Office. Close contact with the Programme Manager and Head of Programmes.
SC

OPE AND

AUTHORITY
Scope of the Role:
The job holder is accountable for fulfilling his or her roles and responsibilities in line with Islamic values and principles of fairness, humanity, honesty, respect, and fair treatment of his/her colleagues and staff. The Project Coordinator role models the programme and finance policies for programme staff. The Project Coordinator has a key role in upholding compliance standards.
Responsibility for Resources: Monitors the budgets.
KEY ACCOUNTABILITIES
The job holder is accountable for fulfilling his or her roles and responsibilities in line with Islamic values and principles of fairness, humanity, honesty, respect and fair treatment of his/her colleagues and staff.
Key Accountability 1: Project coordination including supervise staff in project
Coordinate implementation of Project in thematic area in line with IR and Donor
requirements and guidelines and agreed timescales, working closely with the Project Officers.
Oversee programme activities including sensitization.
Oversee effective relationships with Communities and partner organisations – includes representation for project. 
Contribute to reports for Donors and proposals as required. 
Develop and update work plans for the Project 
Oversees work of Project Officers and Project Assistants 
Coordination and Liaison with Local Partner in Project Implementation
Delivers training and capacity building for communities. 
Hold regular one to one meetings to review progress. 
Conduct performance reviews in line with IR policy
Request for technical support in thematic area as needed. 
Support partners to build their programme capacity where needed.
Key Accountability 2: Budget Monitoring
Monitor project budgets on a monthly basis, escalating any concerns to Programme Manager and Finance team
Key Accountability 3: Monitoring and Reporting
Monitoring and reporting of project activities. 
Write timely activity reports.
Report on project activities regularly in line with requirements. 
Conduct regular monitoring visits in close coordination with the MEAL Officer and Project Officer to ensure progress of Project is documented.
Escalating issues as they arise to Programme manager on monitoring and progress 
Key Accountability 4: Representation and Communication
In coordination with the Programme Manager develop and maintain relationships and effective communications with relevant stakeholders, including local government and other agencies working in the area. 
Represent IR at state level as required, this includes proactive participation in the state and local Cluster groups and meetings.  
Ensure regular and effective flow of communication between the field office with the WEP office and other locations. 
Key Accountability 5: Thematic Focus
List any specific responsibilities here
Key Accountability 1: Office Coordination
Regular communication with the WFP team and Programme to ensure programme activities proceed in line with agreements
Coordinate field activities including approving travel to field locations.
Develop, finalise and monitor the Programme budget in the thematic area.
Work closely with the Project Officer, Programme manager and Finance team to ensure
the budget is closely monitored and well understood.
Ensure cash requests are submitted to the Finance team within the specified deadlines.
Coordinate Donor and senior staff visits as appropriate.
Coordinate day to day operations of the field office.
Maintain an overview on logistics and asset movements in and out of the office and field
location under responsibility.
Key Accountability 3: Security Management
Coordinate security for the office in close communication with Programme Manager and
Security focal point.
Monitor developments in the state to ensure sufficient knowledge of the changing
context.
Ensure all staff understand the IR Security procedures and that new staff receive an induction on security.
Monitor staff movement in the field.
Coordinate communication for the office in emergency situations/during a security incident.
PERSON SPECIFICATION
ESSENTIAL
Qualifications
Post graduate degree or its equivalent in management, social science, international development, public administration, or a related field
Experience
Experience of working with International NGOs in Sudan, particularly in FSL, WASH, Education, Nutrition, and Microfinance.
Demonstrable experience of Programme implementation and administration.
Some experience of managing and mentoring staff.
Familiarity with the Millennium Development Goals, Sphere Standards, Do no harm policy, Red-Cross/Red-crescent Code of Conduct, Humanitarian Accountability Programme etc.
Skills
Knowledge in programme area of Specialism: WFP, Livelihoods/Health and Nutrition Good analytical skills.
Able to build the capacity of others.
Able to organise and deliver workshops for communities.
Ability to represent the organization at provincial and local level
An ability to work under pressure with limited support.
Good written and spoken English; able to write reports and proposals.
working knowledge of Microsoft Word and Excel.
Committed to Islamic Relief Worldwide values and code of conduct.
Willing and able to travel for up to 40% of role.
Sensitivity to cultural differences. Language skills in Arabic.
DESIRABLE
Experience managing an office and familiar with WFP projects
How to Apply ?
Interested candidates may submit their CV (including current address and contact numbers), copies (only) of relevant certificates and a covering letter to Humanitarian Aid Commission (HAC's Labour Office) Jamhoria Street, Khartoum And send their CV via this Email: [email protected] applications should reach latest by 15 days Only short-listed candidates will be contacted.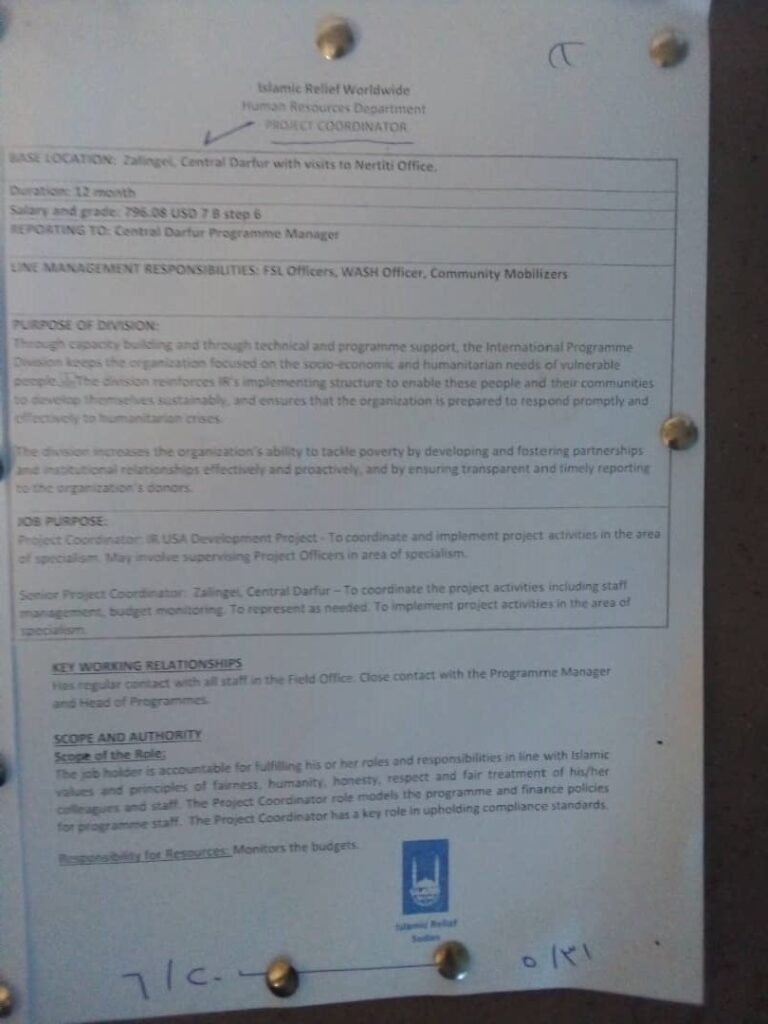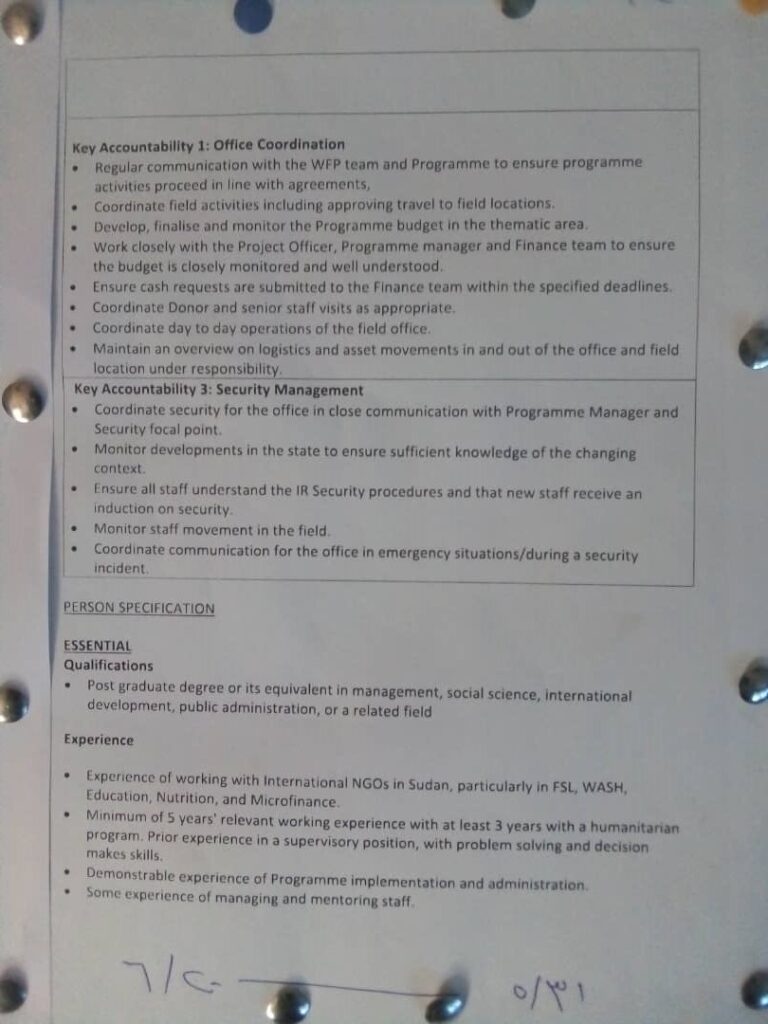 Related posts