Human Resources Manager – Islamic Relief Worldwide
Job Description
| | |
| --- | --- |
| Job Title : | Human Resources Manager |
| BASE LOCATION: | Khartoum, Sudan with frequently traveling to the field officer |
| Duration: | one year (renewable based on performance) |
| Gross salary: | 1,739 USD |
| REPORTING TO: | Country Director Sudan |
| LINE MANAGEMENT RESPONSIBILITIES: | HR officer, HR Assistants |
| Deadline: | 14/07/2021 |
PURPOSE OF DIVISION:
Through capacity building and through technical and program support, the International program Division Keeps the organization focused on the socio-economic and humanitarian needs of vulnerable people The division reinforces IR,s implementing a structure to enable these people and their communities to develop themselves sustainably, and ensures that the organization is prepared to respond promptly and effectively to humanitarian crises.
The division increases the organization,s ability to tackle provided by developing and fostering partnerships and institutional relationships effectively and proactively, and by ensuring transparent and timely reporting to the organization,s donors.
JOB PUROSE:
Provide HR leadership for the Country program. provide risk management, ensuring all legal processes are followed and oversee all employee relations and disciplinary matters. Ensures local HR processes are conducted in line with IR policies and the labour.
KEY WORKING RELATIONSHIPS:
Has regular contact with the Finance team, the pragramme, and logistics teams. Works closely with the Country Management team and Field Coordinators.
SCOP AND AUTHORITY
Scope of the Role
The job holder is accountable for fulfilling his or her roles and responsibilities in line with Islamic values and principles of fairness, humanity, honesty, respect, and fair treatment of his/her colleagues and staff. The HR and Administration role models the HR policies and the IR values in support of the organization projects.
Responsibility for Resources:
Manages the administration support. Guides managers in the management of thier staffing budget.
KEY ACCOUNTABILITYES:
The job holder s accountable for fulfilling his or her roles and responsibilities in line with Islamic values and principles of fairness, humanity, honesty, respect, and fair treatment of his/her colleagues and staff.
Key Accountable1:HR Leeadership
Represent IR at the HR NGO Forum meeting, sharing Iearning with the HR team ,country Management tea and other staff as appropriate.
Member of Country Management team, advising on legal risks and compliance and HR best practice .
Support programme Managers in the field offices on HR matters and undertake .
Key Accountability 2: Team Management
Manage the HR team
Build the capacity of the team, through supervision and mentoring.
Hold regular one to one meeting to review progress.
Conduct performance reviews in line withIR policy.
Key Accountability 3: HR policy and Best Practice
Tracks performance reviws and advises managers on performance matters with options available .
Ensures contracts extended and terminated in line with labour law with relevant options available.
Ensures recruitment process is compliant with HAC requirements
Advises managers complex HR matters, delegating simple matters to junior HR staff
Updates HR Manual annually
Reviews staff letters and contracts to ensure compliant with law and HR policies
Leads annual review of salaries and ensures letters are issued to staff on decidions
Lead on periodic review of benefits including medical insurance and other benefits
Provide regular reports to CMT on HR matters and metrics e.g.recruitment ,turnover, absence and performance reviews.
Prepare monthly payroll to padd to finance.
Key Accountability 4: Lead on Employee Relation Matters
Coach managers through employee relations matters , mitigating risk where possible.
Maintain relatiinship with Lawyer and seek advice as needed.
Lead on relationship with HAC
Lead and advise on all copliance risks.
Key Accountability 5:Oversee performance Management process
Support managers to conduct regular performance riviews
Provide regular training on perfomance review process
Advise CMT on significant cases of underformance and adivise on wey forward
Monitor training needs analysis and oversee HR Training officer to ensure action plans are developed.
Key Accountability 5: Training and Capacity Bukiding
Develop,introduce and maintain a HR induction for all staff
Provide capacity building training as needed for field coordnators and other managers in staff management ,particularly in areas of recruitment ,absence managerment and performant reviews.
Working with Training Officer provide HR capacity buliding to staff as required. This may invilve training
Lead on HR audits for offices
PERSON SPECIFICATION
ESSNTIAL
Master's degree,in Human Resources or a related business field professional qualification
7_10 years experience in a similar role, preferably with som management expernce
Proficient double entry bookkeeping and accounting software
Advanced IT skills; able to use online HR systems and verify data with a accuracy.
Knowledge of the labour low
High level of attention to detail
Advanced analytical skills
Willing and able to travel to field locations for up to 30% of role
Advanced written and spoken Einglish
Sensitivty to cultural differences
Sympathy with the aims of IR
DESIRABLE
Knowledge of global HR standardsin in an NGO Setting Such us the CHS Alliance
Experience working in an NGO in a similar role
To be familiar with and abide by the NGO/Red cross code of conduct, the people in Aid code, IRW International procedures
IRW is an equal opportunity employer, females, people with special needs are encouraged to apply.
Interested candidates shall submit their CV (including current address and contact numbers), copies (only) of relevant certificates, and a covering letter to the Humanitarian Aid Commission (HAC's Labour Officer), Jamhoria street, Khartoum. Applications should be submitted by 14 July 2021. only short-listed candidates will be contacted.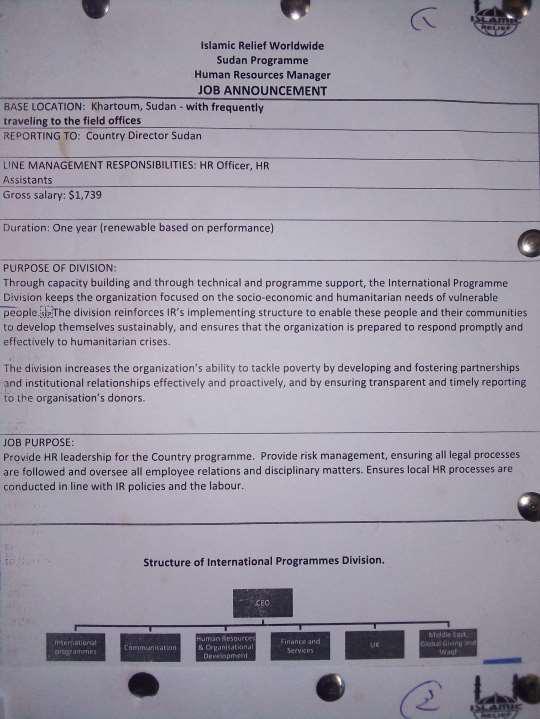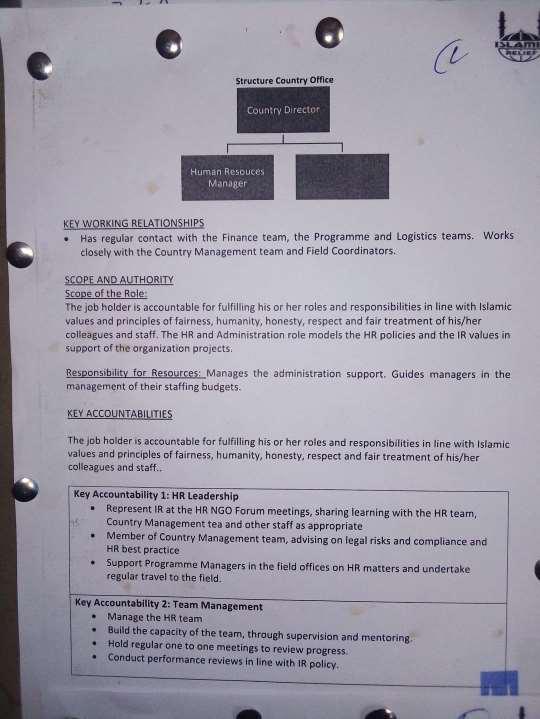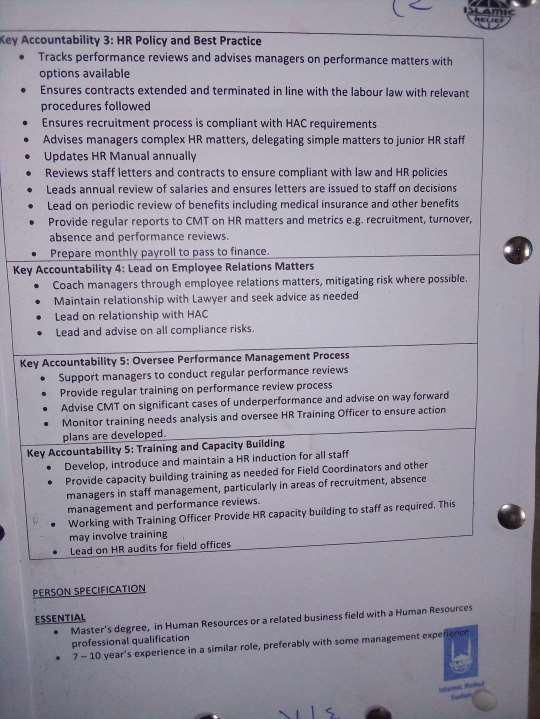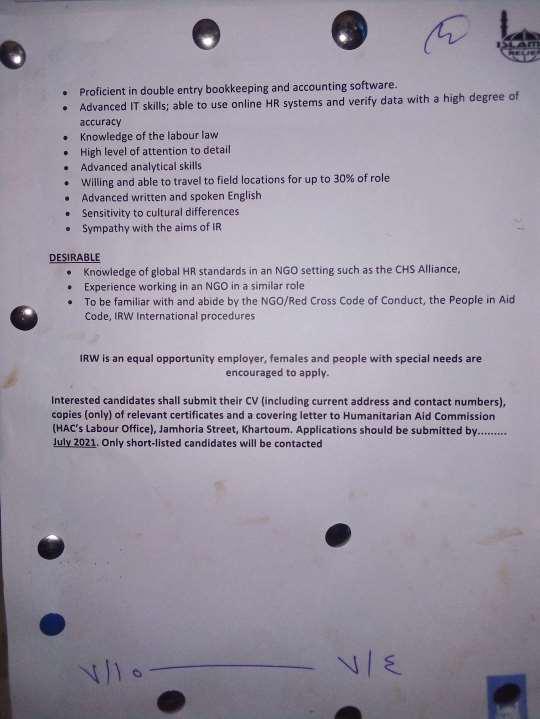 Related posts