Procurement Manager (South Kordofan) – Goal
Job Description
| | |
| --- | --- |
| Job Title: | Procurement Manager |
| Department: | Procurement |
| Job Location: | Dilling, South Kordofan, Sudan |
| Reports to: | Area Coordinator South Kordofan |
| Length of Contract: | One Year Renewable, with three-month probation period |
| Salary Grade / Step: | Grade 6, Gross Monthly Salary USD 1,043 |
| Deadline: | 10/06/2021 |
General Background of the Programme
GOAL's mission is to work with the most vulnerable communities to help them respond to and recover from humanitarian crises, and to assist them to build transcendent solutions to mitigate poverty and vulnerability.
GOAL has been working in Sudan since 1985, towards ensuring the poorest and most vulnerable in our world and those affected by humanitarian crises have access to the fundamental rights of life, including but not limited to adequate shelter, food and livelihoods, water and sanitation, nutrition, healthcare and education. GOAL implements a range of multi-sectoral development, resilience, recovery and humanitarian responses programmes by being sensitive to cross-cutting issues including gender, accountably, child protection, HIV/AIDS.
GOAL is currently working directly in North Darfur and South Kordofan States, managed by GOAL offices in these states and in Khartoum. The current GOAL programmes focus on four main sectors: Primary Health Care, Nutrition, Water Sanitation and Hygiene (WASH) and Food Security and Livelihoods (FSL).
General Description of the Role
With support of Procurement Coordinator, manage the Procurement Function at the head office level with the aim of:
Providing effective and timely procurement support to all programmes in relation to Supply Chain Management;
Ensuring that all assigned procurement tasks in South Kordofan are carried out in compliance with GOAI and donor requirements;
Assisting Senior Procurement Coordinator to identify training needs and support training of procurement staff across field office and localities.
Building capacity of and managing staff in the procurement department in accordance with the HR Policy, and ensure the highest standards of ethics, accountability and professionalism.
Familiarising oneself and complying with all policies outlined in GOAL Field Procurement Manual and relevant donor requirements.
Overseeing the completion of the required reports and databases and timely submission of weekly Order Tracking Sheet (OTS).
Key Duties and Responsibilities
Demonstrate strong leadership and managerial competencies, including integrity, accountability communication skills and commitment to teamwork and excellence in responsibilities such as selecting, mentoring, coaching, supervising motivating and training procurement staff;
Initiate, plan, schedule, report, monitor and assure quality of all assigned procurement activities.
Procurement Management:
Responsible and accountable for all supply chain related activities with respect to the following tasks:
Manage the day-to-day operations and start to finish procurement process in Khartoum of the assigned PRS;
Manage and review documents received from South Kordofan for the procurement of all supplies, equipment and services and ensure compliance to Field Procurement Manual;
When necessary, assist procurement team in South Kordofan by carrying out complex and higher value from Khartoum;
Ensure suppliers deliver materials and services in accordance with agreed price, time, quantity and quality,
Ensure all invoices are audited for compliance with contract terms and supervise contract closeout;
Responsible for ensuring records are maintained and procurement process is correctly and accurately document from origination through completion;
Coordinate routinely with other departments to ensure effective and timely coordination and teamwork in procuring goods, services and works;
Make recommendations on policies and procedures as needed to ensure the success and compliance of all procurement related activities;
Provide procurement research, guidance and direction by presenting available procurement options;
Be the focal point for collating and managing the Master Order Tracking Sheet (OTS) for GOAL Sudan progamme,
Manage and oversee the database of long-term contracts/FWAs administered from Khartoum office;
Monitor performance against targets and deliverables for all contracts, including performance of sub-contracting partners;
Ensure all vendors have a performance evaluation completed on an annual basis and the vendor database is updated regularly.
Human Resources Management
Jointly with Area Coordinator South Kordofan and Procurement Manager, manage performance of procurement personnel in accordance with GOAL HR policy: including recruitment, evaluation, annual leave planning and other managerial duties;
Support Area Coordinator South Kordofan and Procurement Manager in carrying out the required performance management activities (probation evaluations, mid-term reviews and annual appraisals);
Coach procurement personnel on best practice and GOAL's logistics procedures.
Reporting
Collate, manage and share the Master Order Tracking Sheet (OTS) for GOAL Sudan progamme with the relevant parties;
Contribute procurement updates for a monthly Logistics Report.
Other Duties
Provide procurement system and procedures briefing to new starters, and conduct inter departmental training where required;
Perform any other relevant duties as directed by Procurement Coordinator, Senior Procurement Coordinator or Systems Director.
Qualification and Requirements
Qualification in Economic, Business Administration or any related studies will be a distinct advantage;
A minimum of 3 years procurement experience in NGO or commercial organisation;
Strong procurement background, and knowledge of Supply Chain Management;
Ability to deliver under intense pressure and meet deadlines. Self-starter who can manage their own workload and motivate team members.
Ability to plan, prioritise, coordinate and perform multiple tasks simultaneously; Proven experience of staff management;
Appropriate skills and experience in capacity building and the training of staff, and development and implementation systems;
Computer Skills, including proficiency in Email, Microsoft Excel and Microsoft Word are essential;
Spoken and written fluency in English essential;
Experience of working in insecure environments;
Honest, responsible and in good physical condition to meet the demands of the job.
---
Reporting to: Procurement Coordinator
Contract Length: 1 year
Start Date Required: middle of June 2021
---
This job description is not incorporated in the employment contract. It is intended as a guide and should not be viewed as an inflexible specification as it may be varied from time to time in light of strategic developments and following discussion with the post holder.
GOAL has Staff Code of Conduct, Safeguarding and Child Protection Policy, which have been developed to ensure the maximum
Protection of programme participants and children from exploitation. GOAL also has a confidentiality policy ensuring the non disclosure of any information whatsoever relating to the practices and business of GOAL, ocquired in the course of duty to any other person or organization without authority, except in the normal execution of duty.
Any candidate offered a job with GOAL will be expected to adhere to these policies and other GOAL and Donor policies.
GOAL's Conflict of Interest Policy applies to all recruitment processes. Staff will be required to declare Conflict of interest during the process
Note: If you have any serious concern over wrongdoing please report it at www.safecall.co.uk or email [email protected] All information is treated confidentially by Safecall and you may remain anonymous if you wish
This Job Description only serves as a guide for the position available. GOAL reserves the right to change, revise, omit, and add in part/in whole this document any time without giving any reason thereof.
How to Apply ?
Interested applicants shold submit their applications and credentials to the labour officeat HAC Al jamhoriya Street.
About Goal
When was goal founded?
1977GOAL was established in 1977 by Dublin sports journalist John O'Shea and four friends. Deeply moved by the plight of street children they encountered on a trip to Kolkata (Calcutta), India, they decided to set up an aid organisation dedicated to helping the world's poorest and most vulnerable people.
Is goal a charity?
Fundraising from the public
In addition, GOAL is a member of the Charities Institute of Ireland and registered with the Irish Charity Regulator and UK Fundraising Regulator.
GOAL has HQ offices in Dublin, London and New York.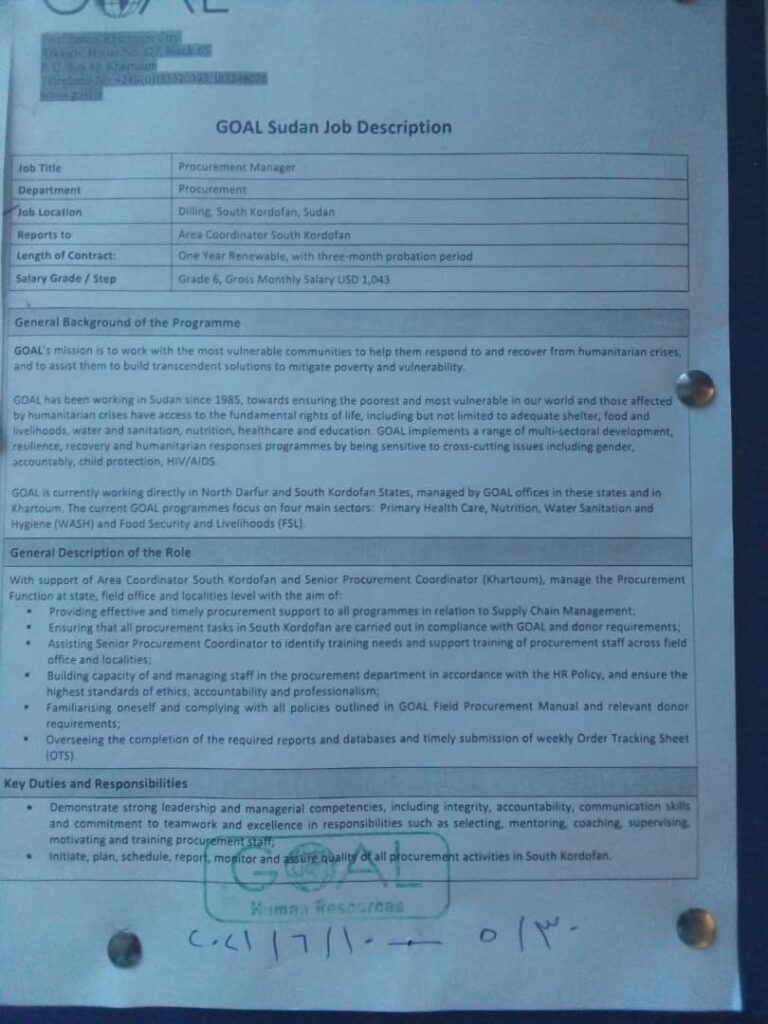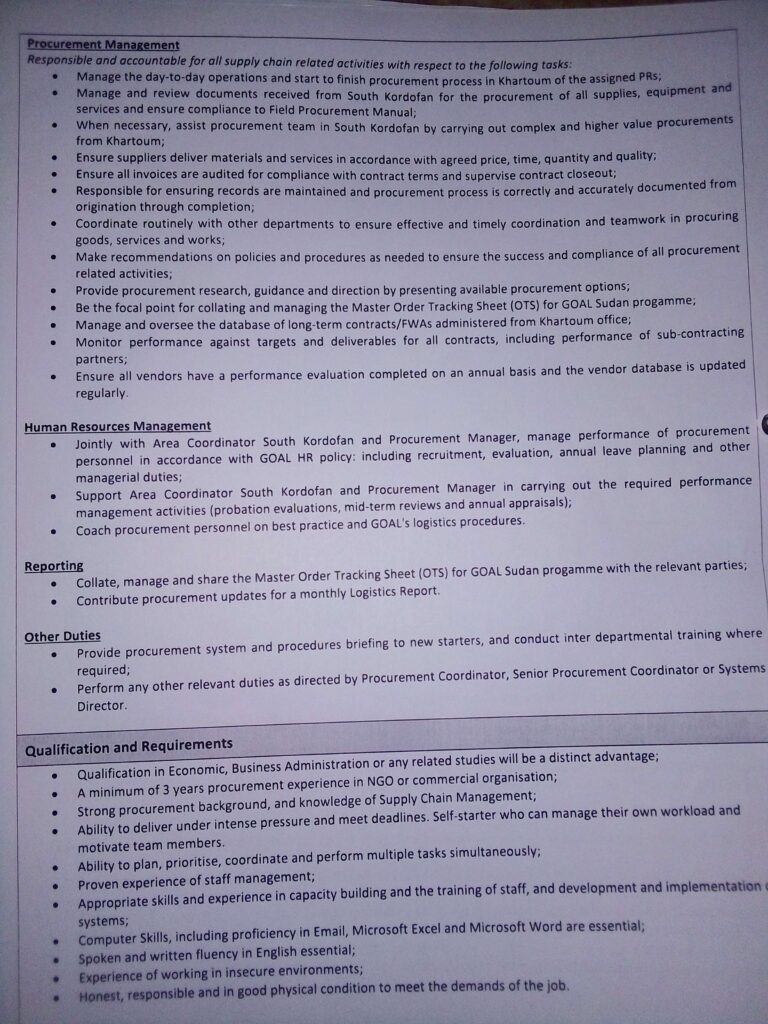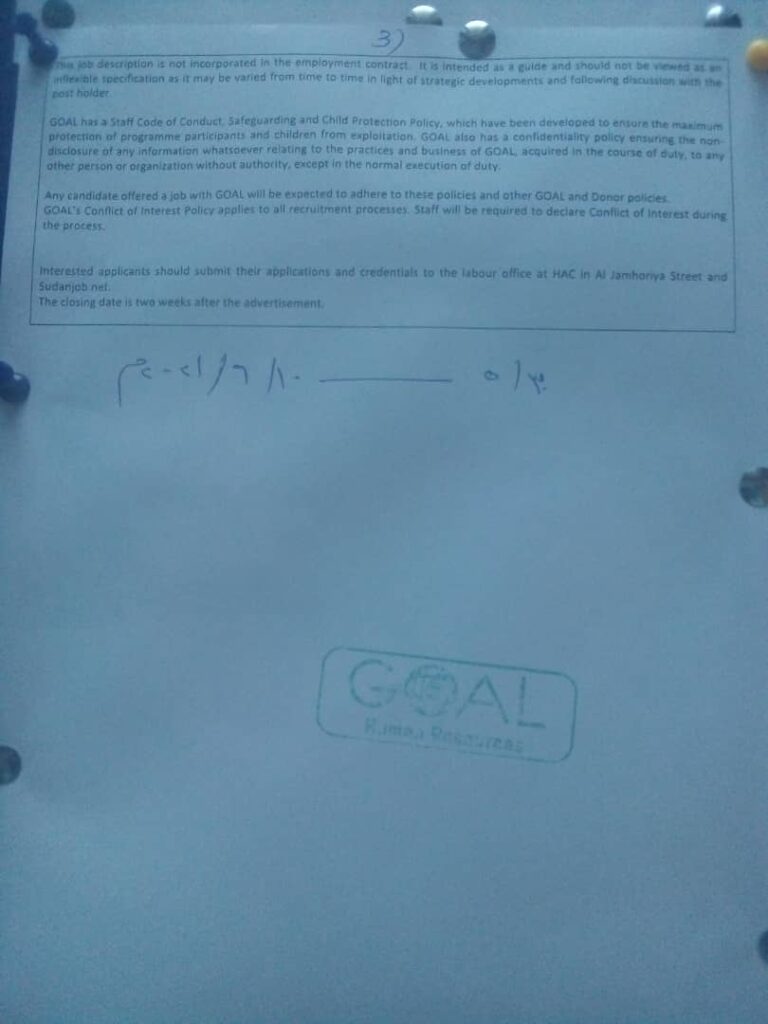 Related posts