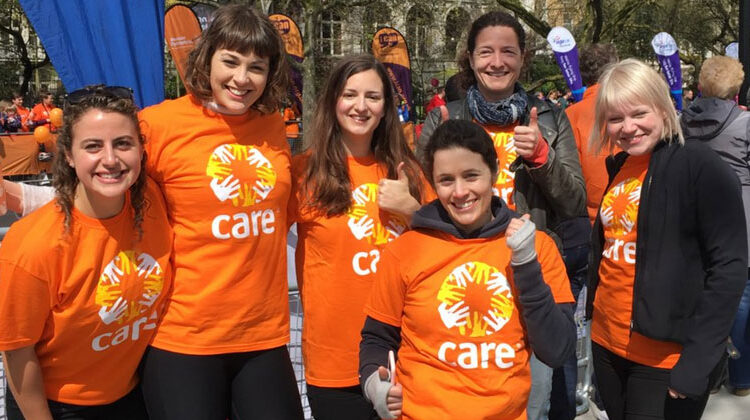 About CARE
CARE is an international NGO with local staff and community partners in 100 countries. We create local solutions to poverty and inequality and we seek dignity for everyone every day and during times of crisis. These solutions have a broad range, from disaster response to food and nutrition to education and work for women and girls to healthy mothers and children. CARE puts women and girls at the center of everything we do because when they have equal access to resources, they lift their families and communities out of poverty. Our staff live where they work, which makes us effective at understanding the challenges they face. We've been doing this for 75 years, since World War II. It started with the world's first CARE Package® of food for the post-war hungry in Europe. Our work today is as important as ever, we believe that poverty and inequality are historic injustices that we can end within a generation, for good. If you share our core beliefs: poverty is an injustice; poverty is solvable; and together, we have the power to end it, join us, and Fight with CARE.​
CARE Internationl is an organization driven by its mission to overcome poverty and social injustice. CARE International in Sudan is part of CARE International, whose vision is to seek a world of hope, tolerance, and social justice, where poverty has been overcome and people live in dignity and security. We are known everywhere for our unshakable commitment to the dignity of people. CARE and partners contribute to the empowerment of the most marginalized and vulnerable rural women and girls to exercise their rights.
Job Description
| | |
| --- | --- |
| Duty Station: | Khartoum |
| Gross Monthly Salary : | USD 834.65- 1,210.71 |
| Section/Unit: | Finance |
| Grade Level: | D |
| Supervisor: | Accounting Manager |
| Duration | 1 Years |
| Closing Date: | 30/06/2021 |
Background:
The Role of the Roving Finance Officer is to provide finance support to Khartoum Office, as well as to all our FO as necessary addressing issues of finance and provide relevant information to meet internal and external demands. These services may include, but are not limited to, processing cash payments, monthly adjustment, maintain sub ledger, financial advice, Monthly bank reconciliation, Filing, and maintaining the Accounting Records. S/he will be engaged as necessary in supporting grant team as well.
Duties and responsibilities:
Processing Cash Payment
Process payment to CARE employees
Reporting and Control
Financial Services
Maintaining Accounting records
Filling :Manage finance document filling by scan all finance document and save in public folder and keep hard copies safety
Audit :Provide all supporting transactions required by auditors when required. This will involve contacting the finance colleagues in the field.
Any other duties that may be required from time to time that is commensurate with the incumbent's qualification. And assigned by the supervisor
Minimum Qualification, Skills and Experience Required:
Education: Bachelor's degree in commerce, preferably in Finance / Accounting
Experience: At least 3 three years relevant experience, preferably in International agencies.
Language: Good communication skills in both Arabic and English
Computer skills (word processing, Spreadsheet) are essential.
Others: ability to work in a team environment; Good interpersonal skills; Coach or facilitate on financial aspects; Basic understanding of accounting processes and procedures, Financial Reporting, Costing, and CIS accounting systems; planning and monitoring skills.
---
Interested candidates who fulfill the above requirements are requested to drop the CVs (with cover letter supporting documents and names and addresses of two non- relative referees) at HAC Labour Office, Gamhoria St, Khartoum and please send it on or before 2021/6/30.
Note: Any persuasion will disqualify the candidates. Only short-listed candidates shall be invited for the interview. Please write the position applied for at the top right hand corner of the envelope.
For jobs from CARE International in Sudan visit : CARE Jobs Page
Related posts