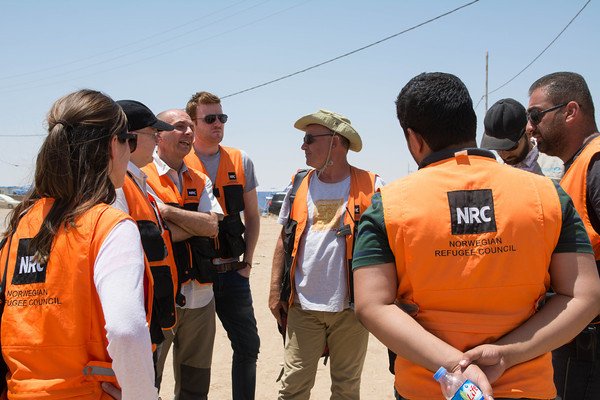 HR Officer – South Kordofan – Kadugli (Sudanese) – NRC
The Norwegian Refugee Council has an interesting and rewarding opportunity to be part of our newest country of operation – Sudan.
The NRC has recently re-registered to operate in Sudan, and is currently in country start-up phase, conducting assessments and designing the first steps of the programme. Focus will be given to people displaced by conflict, refugees, and vulnerable migrants, and potential geographical areas of work will be Khartoum state, South Kordofan and Blue Nile on a first phase, with the idea to expand to other States.
As a priority, NRC is therefore hiring an HR Officer to be part of establishing NRC's programme in Sudan.
Application deadline: 25.11.2020
Employer: Norwegian Refugee Council
Title: HR Officer – South Kordofan – Kadugli (Sudanese)
Town/city: Khartoum Employment type: Contract
Full-time/part-time: Full-time Percentage of full-time:100
Webcruiter ID: 4310362462 Positions: 1
Start date: 03.01.2021 End date: 02.01.2022
Duties and responsibilities
Generic responsibilities
Implement delegated support function portfolio according to plan of action
Prepare and develop status reports as required by management and ensure proper filing of documents,
Promote and share ideas for improvement of the support function
Provides direction, assigns tasks and gives instructions to staff, specifies their individual work plans and evaluates individual team member's performance.
Supports assigned staff in their professional development, identifies training needs, supports staff to achieve the objectives defined in their learning development plans and/or Provides advanced technical support and develops capacity building initiatives to enhance the technical knowledge and professional development of staff.
Monitors the progress of the team activities and ensures they are implemented conform planning, quality guidelines, budget and (donor) guidelines. and/or Monitors on progress and on the quality of the team output.
Develops with the assigned team, Quarterly activity plans and/or Feeds in the Quarterly team activity plan with technical experience and knowledge.
Ensures compliance with NRC (global and national) policies and procedures, handbooks and guidelines and/or proposes new initiatives to bridge gaps and implements these.
Identify, analyses and evaluate key processes and gaps in the team activities and make recommendations for improvement.
Provides qualitative and quantitative analysis over team activities, signals trends and patterns compile one team report.
Specific responsibilities
Ensure adherence with NRC policies, tools, handbooks and guidelines
Organize and participate in interviews by ensuring transparency in the process.
Ensure the recruitment files are complete and updated with every stage of recruitment both hard copies and on the web recruiter and regret letters are issued, and files archived in a timely manner
Compile attendance of training matrix and update on a weekly basis.
Facilitate induction for national staff.
Ensure that induction for international staff take place on a monthly basis.
Facilitate trainings as needed; i.e. CV writing skills, code of conduct, etc.
Promote NRC values and safe working environment same as protection from sexual exploitation/abuse of beneficiaries
Arrangement of ID cards and business cards
Managing of translation services of official documents on request
Management of offices and residences including supervision of staff assigned (cleaners): cleaning, maintenance, opening & closing office, payment of electricity/water bills, ensuring functioning and securing office equipment's
Management of lease agreements for all premises (office, residence, warehouse): preparation, renewals, termination, rents, addressing issues with Landlords,
Arrange accommodation for visitors and staff in residences and hotels, from booking to billing,
Checks health and safety standards of offices & guest houses (according to MOSS and MORSS) in relation with the Health & Safety Security Officer
Provision of office and guest houses supplies consumables and non-consumables,
Manage meeting rooms (occupancy, furniture, equipment)
Managing of minor maintenance for the Khartoum office including office equipment/furniture as agreed with procurement department.
Ensure adequate supply of stationery and office supplies; managing of the reception
Maintaining of the guesthouses, guesthouse equipment and supplies
Qualifications
Experience from working in the HR unit for a minimum of 3 years
Experience from working in a humanitarian/recovery context preferable
Documented results related to the position's responsibilities
Fluent both English and Arabic, written and spoken
Preferred to be located in South Kordofan
Bachelor's Degree in Business Administration or related field.
Intermediate computer skills in Microsoft Office (MS Excel, Word, and Outlook)
Strong communication and interpersonal skills
Service minded, with strong organizational and planning skills
Good cultural awareness and sensitivity
Highly approachable, trustworthy and confidential
Good diplomacy and negotiating skills
Attention to details, problem solving skill, excellent time management skills
The Norwegian Refugee Council (NRC) is an independent humanitarian organisation helping people forced to flee.
We work in crises across more than 30 countries, providing emergencies and long-term assistance to millions of people every year. We stand up for people forced to flee, advocating their rights.
NORCAP is a global provider of expertise that contributes to solving challenges in the humanitarian, development and peacebuilding sectors. Our ultimate goal is to strengthen the resilience, and protect the lives, rights and livelihoods of vulnerable people and communities
NRC also runs the Internal Displacement Monitoring Centre in Geneva, a global leader in reporting on and advocating for people displaced within their own country.
Related posts