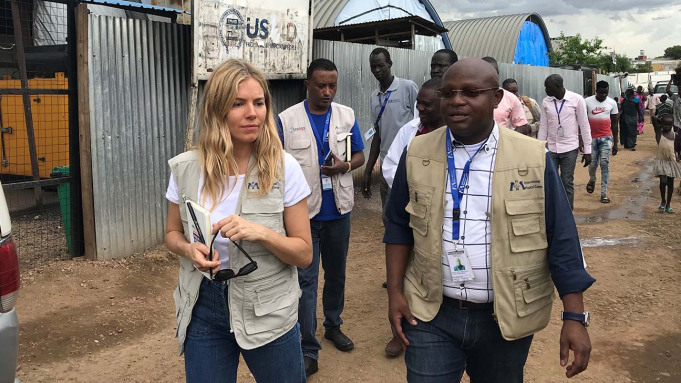 MANAGER, OPERATIONS – IMC
Job Description
| | |
| --- | --- |
| Organization: | International Medical Corps |
| Job Title | Manager, Operations, Sudan |
| Category | Logistics Supply Chain |
| Location: | Sudan – SD (Primary) |
| Date Needed By: | 8/31/2022 |
Job Description
JOB SUMMARY: The Operations Manager will oversee all the logistics management systems and logistics support related activities in the country office and all sites in the country, at the direction of the Deputy Country Director and the Global Logistics Manager.

To perform this job successfully, an individual must be able to perform each essential function with or without reasonable accommodation:


MAIN TASKS AND RESPONSIBILITIES


Programs- Donor/HQ Reporting Responsibilities, Strategic Planning Etc.
Submit regular weekly and monthly logistics reports to in-country management team and HQ logistics in line with International Medical Corps Logistics Guidelines. Reports must cover: procurement status, supply chain, fleet and asset management, stock status reports, distribution reports etc.) as appropriate and as described in International Medical Corps Logistics Guidelines.
To participate in new projects planning in order to provide accurate estimates for supplies and equipment, services, their actual delivery timelines and also provide logistics team staffing needs necessary to execute proposed project. Further, must oversee ongoing projects commodity and logistics services pipeline execution.

Position Specific
Implement logistics management systems according to International Medical Corps Logistics Guidelines and take the lead in matters pertaining ; international and local procurement and tender
procedures, contracting, commodities import, warehousing, transport (international and in-country), vehicle fleet management and asset management, distribution support and mandatory reporting, ensure proper set up of new sites or closure of sites when project activities end). This also includes the requisitioning of assets according to the project budget lines and maintaining and developing a proper asset and inventory control and tracking system.
Make thorough assessments of the logistics issues in emergency situations (airports, trucking fleets, warehousing, access routes etc.) and continue assessment to note relevant changes in post-emergency period.
Manage all commodity movements, including secure warehousing, inventories, delivery, distribution, and end use supported with appropriate evidences and reports on commodity movements and problems encountered, as well as their resolution.
Supervise, manage and coordinate all logistics related activities from the technical and management point of view in a professional manner.
Manage the supply chain on medical, non-food and food items by ensuring that logistics and program staff are well-informed and well-prepared for incoming pipeline and related schedule.
Ensure timely reporting on stock status and help Program staff with planning of stock replenishment.
Oversee the team of end-use monitors to verify that distribution has occurred according to the intentions and plans of the donors, International Medical Corps, and project partners.
Negotiate and verify adherence to conditions and terms of the commodity transport contracts in consultation with International Medical Corps HQ logistics department.
Ensure adequate transport means and review transport related documentation.
Locate and negotiate terms for adequate warehousing with security. Ensure that warehouses are adequate, well-maintained, and meet basic safety and health requirements.
In absence of dedicated technical staff supervise small scale construction projects (where required).
International Medical Corps

Human Resources Management
Recruit national Logistics Officers in coordination with the Deputy Country Director and Global Logistics Manager / HQ, and to supervise them in line with organization policies and procedures, ensuring that they have the necessary induction, training and support, as required.
Provide assessment and reports of the job performance evaluations of logistics personnel.

Training/Capacity Building
Keep up constant training of staff under own supervision in order to strengthen their skills required for proper usage and implementation of logistics procedures, rules and regulations. Participate in orientation for program staff related to importance of timely procurement/GIK planning and execution.

Working Relationships/ Interdepartmental interface
Assist and advice the International Medical Corps Deputy Country Director, the Head of Programs and the Head of Offices within the International Medical Corps mission on logistics procedures in order to support the projects in the most time and cost efficient way.

Representation
Coordinate with Logistics Cluster and UNJLC (where applicable), donors, local government, project partners, UN agencies and other non-governmental organizations in order to plan, organize, and schedule distribution of IMC commodities on a regular basis as programmed, as well as to ensure adequate information sharing and address common concerns/problems and seek solutions.
Represent International Medical Corps to government officials, shipping and clearing agents, transport
companies, and partner representatives in a positive and professional manner.

Perform other duties as assigned. The duties and responsibilities listed in this document are representative of the nature and level of work assigned and not necessarily all inclusive.

Code of Conduct
As applicable to this position, an individual must promote and encourage a culture of compliance and ethics throughout the organization and maintain a clear understanding of International Medical Corps' and donor compliance and ethics standards and adheres to those standards.

If this is a supervisory position, one must set an example of ethical behavior through one's own conduct and oversight of the work of others; ensure that those who report to you have sufficient knowledge and resources to follow the standards outlined in the Code of Conduct & Ethics; monitor compliance of the people you supervise; enforce the Code of Conduct & Ethics and International Medical Corps' policies, including the Safeguarding Policy and the Protection from Harassment, Bullying and Sexual Misconduct in the Workplace Policy, consistently and fairly; support employees who in good faith raise questions or concerns.

It is all staff shared responsibility and obligation to safeguard and protect populations with whom we work, including adults who may be particularly vulnerable and children. This includes safeguarding from the following conduct by our staff or partners: sexual exploitation and abuse; exploitation, neglect, or abuse of children, adults at risk, or LGBTI individuals; and any form of trafficking in persons. Staff are also responsible for preventing violations to our Code of Conduct and Ethics, which may involve Conflicts of Interest, Fraud, Corruption or Harassment. If you see, hear or are made aware of any violations to the Code of Conduct and Ethics or Safeguarding Policy, you have an obligation to report.

Equal Opportunities
International Medical Corps is proud to provide equal employment opportunities to all employees and qualified applicants without regard to race, color, religion, sex, sexual orientation, national or ethnic origin, age, disability or status as a veteran.
Job Requirements
MINIMUM QUALIFICATIONS

Typically, a Bachelor's degree in Logistics or relevant field. Certification in Humanitarian Logistics. Equivalent combination of relevant education and experience may be substituted as appropriate.
7+ years of relevant experience in humanitarian logistics management within the field of supply chain management (procurement, tendering, contracting, clearance, transport, warehousing, etc.) fleet management and asset management, distribution support
Proven record on the ability and experience of the management of logistics team
Experience with donor specific procedures related to logistics
Understanding of budgets and ability to prepare timely, complete and accurate logistics reports
Ability to conduct training workshops in all areas of logistics for national staff (suitable to staff knowledge level)
Commitment and demonstrated skills to build national staff capacity in the areas of logistics management, supervision and monitoring
Strong organizational and problem-solving skills with analytic approach
Strong interpersonal, management and leadership skills
Ability to work in participatory manner with staff to assess needs, implement and monitor activities
Ability to integrate and work well within multiethnic and multicultural team
Ability to work in harsh condition, often in remote areas
Valid driving license
Proficiency with MS Word and Excel (minimum requirement)
Prior experience of logistics software use (desired)
Additional Technical or Language Requirements
MISCONDUCT DISCLOSURE SCHEME
All offers of employment at International Medical Corps are subject to satisfactory references and background checks. International Medical Corps participates in the Inter-Agency Misconduct Disclosure Scheme from the Steering Committee for Humanitarian Response (SCHR). In accordance with this, we will request information from an applicant's previous employers about any findings of sexual exploitation, sexual abuse and/or sexual harassment during employment, or incidents under investigation when the applicant left employment. By submitting an application, the job applicant confirms his/her understanding of these recruitment procedures.
Related posts